Political humor and satire from the original Party Organ of Record.

Source • War Hero Bowe Bergdahl Runs for Senate
on 8/1/2015, 2:10 pm
War Hero Bowe Bergdahl Runs for Senate
SACRAMENTO, CA- Master Sargent Bergdahl, a war hero who went up three ranks for his heroic deeds for being a POW under the Taliban, had a premonition after taking some tokes. If all the US Senators can be traitors of their own country, why can't I?
A few days after being forgiven for smoking weed every day, he gathered friends and supporters to get himself into the election. His plans to jump into the race is not without trouble since money is always an issue. Bowe seems to not have enough to join the candidates. As luck to be found, the Islamic Party, ISIS, is willing to fund his campaign to get him into a position in the government. He plans to run as a Democrat or join the third party if that does not fly.
He has so many challengers, but due to the fact he is the only POW in the group he will go through the elections with ease. He has the Muslim vote over all the candidates and his stance against war got the hippies out to vote for him as well. San Francisco and other sanctuary cities will give him the extra votes needed to win the election. It is a great plan for a great state.
read more ...
Statistics
: 1 Post || 352 Views
Post by Hammer and Loupe
Source • New Progressive Law From the World of Next Tuesday
on 7/31/2015, 10:38 pm
New Progressive Law From the World of Next Tuesday
Comrades! The future holds much promise. New research shows that in 2017, the Surplus Fetal Tissue Exchange Act will be passed, allowing the sale of aborted fetuses and dividing the proceeds three ways between the government, Planned Parenthood and the person who had the abortion. This is expected to stimulate the economy and reduce unwanted population growth in economically poor and uneducated areas.
read more ...
Statistics
: 1 Post || 754 Views
Post by Colonel 7.62
Source • Obama's Glorious Third Term
on 7/31/2015, 10:35 pm
Obama's Glorious Third Term
Huh? What? It's 2015? This is confusing, mostly because I do not remember it being so late the last time I wandered in. Alas, that is what comes with being the Commissar of Time, time and space becomes as fluid as Bruce Jenner's gender.Here then is most glorious news from the heroic future!The Obama Third Term happens when in an unprecedented move, all 55 states agree to a new constitutional amendment that allows unlimited presidential terms, restricts the representation of Republicans to 33% of Congress in order to permit greater diversity among elected officials, and coincided with FEMA putting emergency water purification chemicals into the nation's water following a freak collision an experimental nuclear powered Iranian unmanned hypersonic research probe, and Dallas, Texas. With a third term and a friendly Congress firmly in place after 2016, Obama then proceeds to transfer sovereignty of Texas to Iran as reparations for the destruction of their atomic research device, and outlaws inquiry into citizenship when registering people to vote. "If you are living in the United States you are entitled to a cellphone and a voter's card." For the moment I must be off again to regain my bearings and consume large quantities of vodka. But before I go, it was pretty amazing the Seahawks won two Super bowls in a row wasn't it?
read more ...
Statistics
: 3 Replies || 718 Views
Post by Colonel 7.62
Source • A "modest proposal" to sustain big-baby
on 7/31/2015, 9:37 pm
A "modest proposal" to sustain big-baby
In light of recent revelations regarding the salvage and sale of human fetal parts by large government-funded corporations collectively known as "big-baby", I submit this Modest Proposal. It sickens me, as it should any thoughtful member of The Collective™, to witness such a grotesque display of greed by big-baby. It is simply disgusting that big-baby would seek to profit financially from such a necessary, sacrosanct procedure as in-utero fetal dismemberment by the sale of these "specimens" for research.
However, rather than allow The Party™ to suffer the loss of election revenues through the disapproval of The People™ for receiving political donations given by big-baby, The Party™ must recognize that the collective deserve their Fair Share™ of the haul. After all, it is primarily they who are being exploited by big-baby, selflessly volunteering to sacrifice their young as research specimens for the greater good, while enriching the corporations that comprise big-baby.
If The Party™ truly wishes to show its compassion for this heroic class of proletarian voters who supply the lion's share of specimens to big-baby (and incidentally, votes to The Party™), it can start by giving back to the voters. This can be accomplished by taking the young children of the rich and serving them to the poor in the form of life-giving sustenance.
You heard correctly comrade, we can placate the masses by giving the poor a place at the government trough. As the old saying goes, "the way to a man's heart is though his stomach." This will equalize the disgusting profiteering that is exploiting the proletrian masses and give the rich some "skin in the game". These tender young rich kids could be served free of charge at soup kitchens, welfare offices, cafeterias at inner-city ...
read more ...
Statistics
: 10 Replies || 965 Views
Post by Konservative_Punk
Source • Obama's Golf Scorecards Sealed in Top Secret Vault
on 7/31/2015, 4:07 pm
Obama's Golf Scorecards Sealed in Top Secret Vault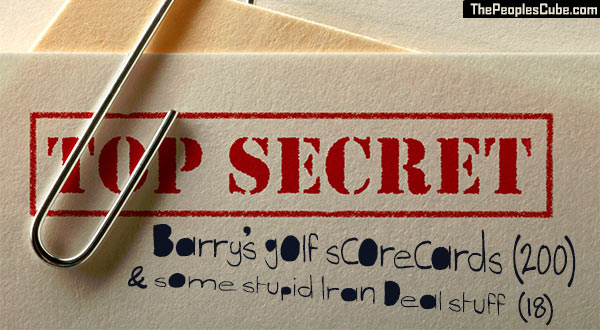 More than 200 scorecards memorializing President Obama's golf outings, along with 18 documents outlining details of the White House's nuclear deal with Iran, have reportedly been sealed in Sensitive Compartmentalized Information Facilities (SCIFs), which are typically used to hold Top Secret information.
The news drew bipartisan criticism from members of Congress. Democratic Sen. Bob Menendez said, "He's a lousy golfer and it's physically painful to watch him. You can actually feel pieces of your soul contracting leprosy with every dribbler he hits from the women's tees and every putt he sends into the hazards. But these scorecards should be made totally public, as far as I'm concerned, so that the American people don't speculate that he's even worse than he is."
Republican Sen. Bob Corker, the chairman of the Senate Foreign Relations Committee, agrees: "In the interests of transparency, the administration should make these scorecards available to the public so the American people can snicker at the utter futility the way congressmen, business leaders, and the Secret Service do. I can understand why he wants these things sealed in a SCIF, seriously, a moose could shoot par with those perfect clubs he has, but these aren't exactly the Roswell files."
Asked for comment, White House Press Secretary Josh Earnest replied that "this isn't unprecedented. The videos of the president playing basketball and throwing out first pitches are in SCIFs too. Don't you guys have anything better to do?"
read more ...
Statistics
: 1 Post || 1052 Views
Post by Kilroy
Source • Gun control to include emojis
on 7/31/2015, 3:04 pm
Gun control to include emojis
#DisarmTheiPhone
Comrades, let's lobby Apple to get rid of those offensive gun emojis!
Here's the original open letter to Apple. Let's improve on it so Apple can finally understand that this is an offer they can't refuse if they know what's good for them.
We love what you do. What you make. What you stand for. There's just one thing we don't like. And we're writing you in hopes of gaining your support.

You see, despite 33,000 American deaths caused by gun violence every year, including the many recent tragic shootings, there has been no legislative action for stricter gun accessibility. Even President Obama has voiced his frustration, stating, "Congress will not budge and that no real action can occur unless the American people feel enough urgency."

So, what can we do?

We realized that many Americans unknowingly carry a gun with them every day. The one that was given to them without a background check: the gun emoji.

We ask that you stand with the American people and remove the gun emoji from all your products as a symbolic gesture to limit gun accessibility. We understand taking the emoji out will not end gun violence, but this act will show Congress that gun-owning and non-owning Americans have come together to demand required background checks for ALL gun sales.

Please, help us Disarm The iPhone. Thank you.

Sincerely,

DisarmTheiPhone
read more ...
Statistics
: 3 Replies || 1204 Views
Post by OksanaTheTerrible
Source • Oregon Bill to Charge Miles on Bicyclists
on 7/31/2015, 2:14 am
Oregon Bill to Charge Miles on Bicyclists
SALEM, OR - Oregon State is not getting enough revenue from cars these days, with almost everyone switching to bicycle transportation in order to avoid taxes on motor vehicles. As a result, road maintenance expense is on the rise and falling tax revenues make it tough to keep up.
This is about to change with Bill 1870, which calls for bicyclists to pay into the road care. For every mile they ride on their bikes, they will soon be charged five dollars and a ha'penny. This requires residents to put state-issued odometers on their bicycles; neglecting to do so will deal a fine for every bike in the household.
The odometers will be equipped with electronic transmitters, sending mileage information to the Oregon Transportation Department, which will calculate the per-mile tax. Penalties will be given to those who tamper with government products.
The neighboring states of California and Washington are closely monitoring this initiative, eager to follow the trend due to comparable problems with gas tax revenues, as well as the need to finance the continuation of such projects as Bertha and the Californian high-speed train system.
read more ...
Statistics
: 6 Replies || 2309 Views
Post by Hammer and Loupe
Source • Cecil's killer blames photographers, selective editing
on 7/30/2015, 11:15 pm
Cecil's killer blames photographers, selective editing
Famed lion killer, Dr. Walter Palmer, the American tourist who went to Zimbabwe and murdered Cecil the Lion, has taken a page from the Planned Parenthood's playbook and is blaming the bias of the anti-hunting photographers who have edited their footage to sensationalize the story.
In an interview to be aired this Sunday with ABC's George Stephanopoulos, Dr. Palmer is calling for Nancy Pelosi, congressional Democrats, and the Justice Department to launch an immediate investigation into the Zimbabwe nationals who took the now famous photos of Dr. Palmer's kill.
George Stephanopolous: Did you murder Cecil in cold blood?

Dr. Palmer: The only guilty party are the undercover photographers who are trying to entrap me and they have been completely unsuccessful. That's why they are showing these highly edited photographs to be sensationalized. It's completely taken out of context... The folks behind this, in fact, are part of the most militant wing of the anti-hunting movement that has been behind, you know, the bombing of hunting farms... That's what actually needs to be -- to be looked at.
Dr. Palmer goes on to explain the humanity of his killing by saying that all the leftover parts of the Cecil's carcass have been harvested and fed to the less privileged starving animals.
"My killing of Cecil is for the greater good," Dr. Palmer continued. "Africa is suffering from animal inequality, where privileged lions are at the top of the food chain, destroying the families of the disadvantaged hoofed animals and harassing their entire vegan collectives with impunity and with no animal advocacy group protecting their rights. Think of me as the animals' Robin Hood, warrior for animal justice, taking from the rich and giving to the poor. The killing of Cecil ...
read more ...
Statistics
: 9 Replies || 3077 Views
Post by El Presidente
Source • Immigrant woman shocked by suffering on US campuses
on 7/30/2015, 8:37 pm
Immigrant woman shocked by suffering on US campuses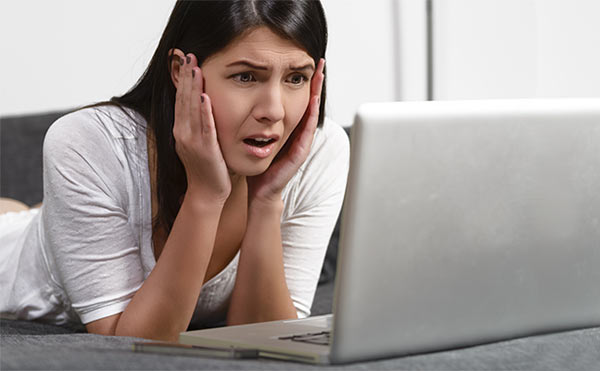 GAINESVILLE, FL – Reading reports from a conference on white privilege held at the University of Florida, local immigrant Diana Yahaira Vasquez Alban, couldn't help but empathize with the pain and suffering of minority students and academic staff in American colleges, which appeared to be much worse than the poverty and crime she had experienced in her native South America.
"I had no idea that such discrimination existed in this country, and I feel bad for these poor people," said the 26-year-old Green Card holder from Peru, who was moved to tears by the coverage of the event in the UF's online student newspaper,
Independent Florida Alligator
.
Held at the University of Florida's Center for the Study of Race and Race Relations, the conference focused on drawing attention to white privilege, which is the science that explains how persons born with white skin are granted certain advantages that are denied to persons born with darker skin, but also encompassed other privileges such as male privilege, heterosexual privilege, and Christian privilege.
The event's keynote speaker was Peggy McIntosh, author of
White Privilege: Unpacking the Invisible Knapsack
, who explained that "white privilege is like an invisible weightless knapsack of special provisions, maps, passports, codebooks, visas, clothes, tools and blank checks," and that "those who happen to be born into the group that is given the benefit of the doubt, given jobs, assumed to be good with money, assumed to be reliable with families are given a tremendous power. I urge all whites here to use your white power, which you have more of than you were taught, to weaken the system of white power."
But it was the accounts from attendees of the conference that broke Alban's heart. "The lady told her listeners ...
read more ...
Statistics
: 6 Replies || 2130 Views
Post by Kilroy
Source • Random synaptic response
on 7/30/2015, 1:20 am
Random synaptic response
A random thought:
What if the OPM hack had a purpose? What if the bank hacks and the failed Obamacare site that has no security, that shovels people's information out in to the hands of Obamacare handlers of very questionable morals and anyone that wants to raid the database?
What if this is coupled with the failure of the Obama administration purposefully not enforcing part 8 (pruning voter rolls) of voting laws?
What if both of these are combined with the amazing rash of new Democrat voters that have entered the country, without documentation?
So here is the crazy train and the broken rail that it is charging down.
~
Hillary the inevitable and deserving
has been calculated and known to the progressive, socialist, radical, communist, anti-christian, anti-capitalist democrats to fail the election if she speaks and actually meets the "people." So to insure her reign, following the great failed administration currently destroying America, and to push the final plans of the progressive, socialist, radical, communist, anti-christian, anti-capitalist democrats, they have gathered their cobbled coalition of disenfranchised, ill-informed, die-hard, progressive, socialist, radical, communist, anti-christian, anti-capitalist, dreaming, illegal, fraudulent and dead voter collective.
With the faux war on women, party of no, we're the caring ones, we'll give you goodies, you're not responsible, we'll take care of you and other progressive, socialist, radical, communist, anti-christian, anti-capitalist ideals, there is a calculated chance that even the great HAG can be the winner.
To put the original thought in to perspective, here is the root idea.
The OPM breach was paid for by Democrats, performed by China and will result in fraudulent voter registration of those affected by the hack and voter fraud continued to the polls by using these people's identification.
Fold in the stolen bank IDs ...
read more ...
Statistics
: 7 Replies || 1899 Views
Post by Kammerat X
Statistics: Total posts 180733 | Total topics 12820 | Total members 44828
News
Site map
SitemapIndex
RSS Feed
Channel list
Powered by phpBB © 2000, 2002, 2005, 2007 phpBB Group