Political humor and satire from the original Party Organ of Record.

Source • A small thought
on 6/28/2016, 11:56 pm
A small thought
I'm not gonna lie. I'm gonna tell the truth. I just got off my yearly (sometimes semiyearly) fit where I start to thinking about the 50's and cry for a 45 minutes or so wishing I could've lived in the 50's and wondering where it all went wrong. I've had them ever since I was very young and I'll probably have them until the day that I die. But, I got to thinking about the term "summer of love" that's used to describe the 60's. If that was a summer, then the 50's were definitely a spring. And the world wars and the Depression were most definitely a winter. But if the summer was in the 60's, where did the fall come? I'd say it was in the 90's when we started fooling around in the middle east. And all winters have a first snow, and I'd say that the first snow, in the grand scheme of things, was 9/11. The previous winter lasted about 30 years. I hope for the sake of the US that the winter we're in right now doesn't last another 15, and that it doesn't take another world war to bring us out of it. And I hope that we can muster the values and morals like that of the 50's that were responsible for creating that idyllic decade. We certainly aren't going to do it arguing about bathrooms and fighting for rights that don't exist. I hope it gets better, because I don't know if I can handle it getting worse. I swear to God that we need another Joe McCarthy to shock everybody out of all this liberal, spineless, valueless, immoral, socialist, communist bullshit. I'm just afraid that it might be too late. Just a thought, I know ...
read more ...
Statistics
: 1 Post || 273 Views
Post by Comrade Stierlitz
Source • More research? Don't be unscientific!
on 6/28/2016, 7:50 pm
More research? Don't be unscientific!
Wonderful news! Comrade Michael Mann has declared that we no longer need climate data. Now Dr. Mann is free to help grow beets.
Michael Mann, scientist: Data 'increasingly unnecessary' because 'we can see climate change'
read more ...
Statistics
: 1 Post || 452 Views
Post by Dances with Socialists
Source • T*R*A*S*H
on 6/28/2016, 7:23 pm
T*R*A*S*H
Through any T.V. lens I see
— Obama's — their travesties
The taxes are withheld from me
They live it up for all to see…
Communists lie and profess
How they know what's good for us
But you can't take or leave it, they decree
They blame and lie and get away
With everything and everyday
They disregard our Rights, ordained
But God will somehow make them pay
They both lie and profess (they both lie)
How they know what's good for us (for us)
But you can't take or leave it, they decree
Their words — they lie — they are thin-skinned
They never stop their thorough spin
The system worked — thieves broke it in
Evil grows — we're in tail-spin!
They both lie and profess
How they know what's good for us
But you can't take or leave it, they decree
Americans born wild and free
Now often question heresy
Reality is now muddied
We want our lives, like they were, see??!!
They both lie and profess
How they know what's good for us
But you can't take or leave it, they decree
And we will stop their … maddness
LET US BE!
read more ...
Statistics
: 1 Post || 364 Views
Post by Googie
Source • The Kill America Guild
on 6/27/2016, 9:50 am
The Kill America Guild
We're here to kill
America off
America off
America off
And make the way for
One World Government —
We wish to take away
Your Freedom Land!
read more ...
Statistics
: 1 Post || 1043 Views
Post by Googie
Source • "Brexit crushes the value of Pi" and other impact studies
on 6/26/2016, 6:57 am
"Brexit crushes the value of Pi" and other impact studies
.
Experts around IPCC already see Brexit influences on climate - scenarios show that it will worsen!
There is a chance - anyway, it can't be excluded - that due to Brexit the sacred value of Pi (those 3.14159...) will shrink, possibly to just 3.
Studies for further traces of Brexit-inducing activity also started, focusing on Vladimir Putin, Dr. Fu Manchu, Ernst Stavro Blofeld, and HAL 9000.
Research for Zionist roots in Brexit (the Jew pulling the strings behind the scenes) did for now present no unequivocal proof.
Womyn with the misfortune of having been given the first name Brittany may employ the services of a nomina-surgeon to perform a chopabrittomy followed by nominoplasty. All expenses will be covered by EU.
Art historians reconsider their Albrecht Dürer exegeses. In a recent near-consensual opinion, Dürer's
Four Horsemen of the Apocalypse (e.g.
here) is claimed to forebode the Brexit.
Greenwich meridian will be irrevocably replaced by the meridian of Brussels (Le Méridien de Brussels, also in
23
22 other EU-languages - English already purged). Le Méridien de Brussels will be clearly painted on land across the globe. On seawaters it will be represented as an installation by Christo (cf. here). Le Méridien de Brussels will be visible from space.
Signs with the inscription "EXIT" will be replaced by displays of a
list
of "EXIT" equivalents in all
24
23 EU languages: IZLAZ, VÝSTUP , UDGANG , UITGANG , SORTIE , AUSGANG , ΈΞΟΔΟΣ , KIJÁRAT , USCITA , IZEJA , IŠĖJIMAS , WYJŚCIE , SAÍDA , IEȘIRE , ВЫХОД , VÝCHOD , SALIDA , UTGÅNG , ВИХІД . Please acquaint yourself with post-Brexit diversity.
Of course the same applies to STOP, HERE, CUBE, etc.
As a next ...
read more ...
Statistics
: 23 Replies || 3751 Views
Post by Genosse Dummkopf
Source • Troll Alert
on 6/25/2016, 5:15 am
Troll Alert
All Commissars, please report to the bunker which may or may not exist.
read more ...
Statistics
: 14 Replies || 3165 Views
Post by Ivan Betinov
Source • Frau Merkel's Contribution to Brexit, for Dummies
on 6/24/2016, 11:52 pm
Frau Merkel's Contribution to Brexit, for Dummies
.
uh, dse Greekenland
...
_
( 2011..2012..2013 )
~
Having created "problems", "politics" seeks "solutions" :
that was 2011..2012..2013 (and Greece shouldn't have become a member of Eurozone in 2001, first of all ; their financial data were heavily doctored, and that was no secret...)
fast-forward to 2015 :
Apex of glory :
It says, in GoogleTranslator—slightly—botched—Deutsch and then in Arabic :
Umm ul-Muminin, singular form of Ummul Mu'mini (Mothers of Believers), a top-level Muslim honorific for meritorious women — like e. g. Muhammad's beloved Aisha.
That pic, 12 ' ' x 16 ' ' sized, was often held and waved to TV-cameras & photogs in the endless processions of migrants dragging through the Balkans to Austria to Germany in summer 2015.
Must have been a Muslim-induced breaktrough in PoD|UyP|MaR technology (Print—on—Demand—just—Using—Your—iPhone—while—Marching—as—Refugee).
Cover of an "inconvenient" monthly journal of Internet era :
Umvolkung
: Nazi-time neologism, primarily denoting the envisioned process of filling conquered
Lebensraum
(first of all
Ostgebiet
, stretching from
Führer's Reichskanzlei
to Ural) with Aryan
Übermenschen
while dislodging non-Aryan
Untermenschen
.
'Umvolkung' evokes 'Umtopfung', which means repotting a plant.
Bertolt Brecht
(ardent Communist since his mid-twenties, moved after WW2 to GDR) :
it's a part of a short poem (
Die Lösung
- The Solution) written following the East Berlin uprising of 17th June (1953 ; crushed by - local - Soviet troops, including tanks in streets) :
the people
Had forfeited the confidence of the government
.
Would it not be easier
In that case for the government
To dissolve ...

read more ...


Statistics : 3 Replies || 3772 Views
Post by Genosse Dummkopf
Source • Poor Widdle Dear Leader
on 6/24/2016, 8:36 pm
Poor Widdle Dear Leader
He's had a Bad Week.
First he didn't get the gun control that he wanted. Then the Supreme Court (how DARE they? No one is Supreme but Him...) declared his Executive Amnesty to be illegal, or unconstipational, or something...
And then, Britain took the world one giant step AWAY from the New
One
World
Government
Order that Dear Leader wants (and deserves) to become the head of after he's finished
off
with the United States.
Poor baby.
read more ...
Statistics
: 2 Post || 3005 Views
Post by Mikhail Lysenkomann
Source • The British Are Going! The British Are Going!
on 6/24/2016, 5:07 pm
The British Are Going! The British Are Going!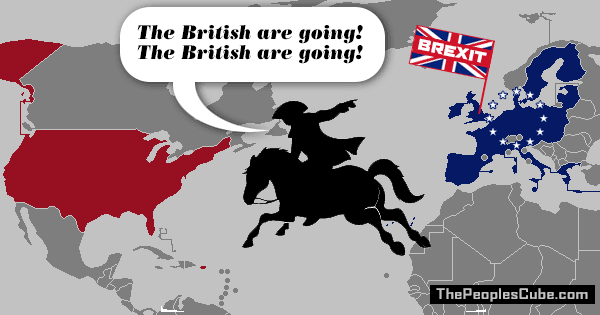 To Arms, World Citizens! To Arms!
The British have rejected the New World Order!
In a stunning upset of the forces of order and decency, the British have voted to exit the European Union. Prime Minister David Cameron has conceded the vote, and, with a catch in his voice as he spoke at No. 10 Downing Street, announced his impending resignation by October.
It seems that knuckle-dragging nationalism is not just the province of the American provincials. A coalition of soccer hooligans, imperialists, hoidy-toidy aristocrats, greedy bourgeoisie, skin-heads, Christians, and persons-not-of-color have managed to pull off an obviously rigged victory in the referendum held on 23 June.
These selfish Britons have refused to open their borders to the peace-loving refugees fleeing the horrors of war currently disrupting the Religion of Peace. They have rejected the peaceful effort to bring the hard-working welfare recipients to their shores. They seem somehow reluctant to adopt sharia, undoubtedly due to their subconscious bent toward fascism.
The insensitive denizens of the Isles of Alba continue to cling to their roast beef (an obvious insult to their Hindu population), their morning fryup of bacon (a calculated slap in the face of Islam) and their pints of warm beer.
To add further insult to all right-minded people, they have rejected the wise counsel of our beloved President, Barack Obama, who warned them that if they were naughty and tried to reclaim their sovereignty from Brussels, they would face immediate financial ruin because the U.S. does not make trade deals with single nations.
Their defiance of goodness knows no bounds: they even defied the edict issued by benevolent billionaire George Soros, the Man Who Broke the Bank of England with his currency manipulation in 1992. Soros has predicted dire ...
read more ...
Statistics
: 31 Replies || 4609 Views
Post by Ivan Betinov
Source • Dig a Hole for Gun Control!
on 6/24/2016, 11:09 am
Dig a Hole for Gun Control!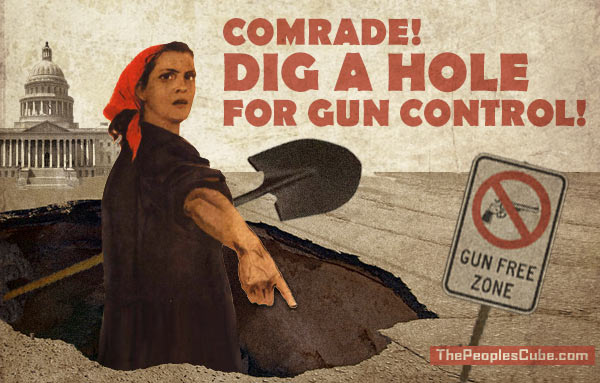 The Democrats' recent historic, storied, epic, heroic, and romantically glorious sit-in on the House floor has inspired me to ponder what I can do to get noticed, become a social media darling, and engage in a little fundraising for my foundation that does so much to help the oppressed and less fortunate by drawing other people's attention to their plight.
Eight years ago, I perched on a high-rise ledge to raise awareness of how much I cared about something. I spent 62 days on that ledge, during which time I raised the awareness, started a national dialogue among everyone who agreed with the need to raise that awareness, and collected a lot of free stuff to make my perch-in a great deal less the hardship it appeared to be to low information masses.
Until Day 62, when Zampolit Blokhayev, who'd obviously been radicalized by the hateful rhetoric of Republicans and the NRA, somehow managed to get his hands on a semi-automatic deadly-assault lock-and-loading self-shooting rapid-fire multi-ammo high-powered head-blowing maximum-destructive super-fatal trigger-happy bloodthirsty machine gun.
He readied it, aimed it, and then fired it at me. I was struck with a glancing blow that knocked me off the ledge. I plummeted toward certain death on the street below with no hope of my fall being broken, except by rubbernecked gawkers who all turned and fled for their pathetic lives once they realized that wasn't a cloud sliding over the sun, but the shadow of my body about to drop on them with a horrific splat.
As I cursed Republicans and the NRA for murdering me in cold blood and screamed for the Government to save me (since we all know thoughts and prayers never work), my red headscarf suddenly snagged itself on a horizontal ...
read more ...
Statistics
: 10 Replies || 4250 Views
Post by Commissarka Pinkie
Statistics: Total posts 190665 | Total topics 13744 | Total members 59025
News
Site map
SitemapIndex
RSS Feed
Channel list
Powered by phpBB © 2000, 2002, 2005, 2007 phpBB Group