Europeon Communist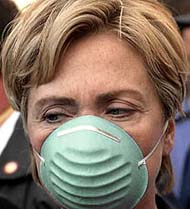 Memo to self: No more chili for Slick Willie
I gotta lay off the botox
I wonder if Mao looked pretty in pink?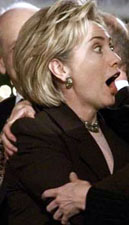 Get your grubby paws off my B cup,
whaddya think I am? An intern?
As I gaze deep into the crystal ball
I see double digit inflation, 20% unemployment,
World War III and I've only been President for one month!
Anybody for some thumb buggery?
Ahh OOOOOOh Gaaaa!
Hillary
Commissar Vladimir Ivanov
These pictures of Kommissar Hillary have got to be the oddest ones out there.  Where in the Red world did you get these?

Vladimir Ivanov

Europeeon Communist
From the People's Archives of course!

Chistka Counselor
Well, if those pictures don't cause you to commit suicide, nothing will. I suppose it is a good mental stamina/stability test.  Seriously, these would also be a great tool to aid in  weight loss or sexual addiction.  The possibilities are endless.  I know I won't be eating for the rest of the month.  And my lil' Krushchev has crawled up into hibernation for the winter.  Damn - this link should really come with some sort of warning before you are allowed to click on it.

Premier Betty
I've already lost my appetite; and as Larry the Cable Guy would say, "My wiener turned around, and shot out my butthole!"