Hammer and Loupe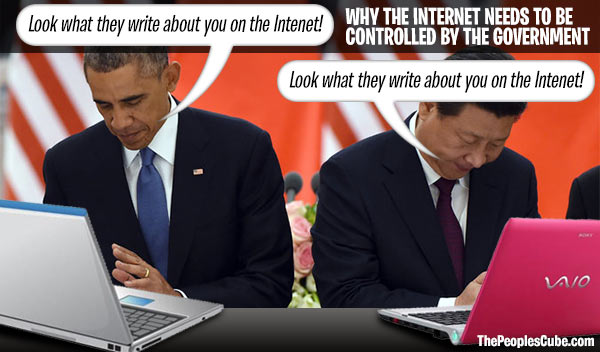 WASHINGTON -
President Xi Jinping will visit the UN
council to ask for a lead role in Internet Control.
"There are many terrorists on the Internet whom we must control before they could cause further damage," President Jinping said, "The Internet produces too much freedom; we need to control the people, not teach them how to rebel against government control."
President Obama agreed with Chinese leader's statement by saying, "We have Republicans, Fox News, and Drudge Report making a muck of things. The worst of it all, the Internet creates Tea Parties and anti-abortionists."
Presidential hopeful Hillary Clinton also lodged a complaint: "The 'free' Internet makes me look like a crook. I am not a crook."
Former presidential hopeful Al Gore stated simply, "I regret making the Internet."
Many UN members also agree that the Internet needs to be put under control, with Arab nations complaining that the Internet gives Muslims a bad name for various reasons.
"China is experienced in the practice of control," President Jinping said. "We can handle it for everyone, helping to rid the world of embarrassments and negativity."
Red Square
Presidents Xi Jinping and Obama agree: The People's Cube is the best site evah!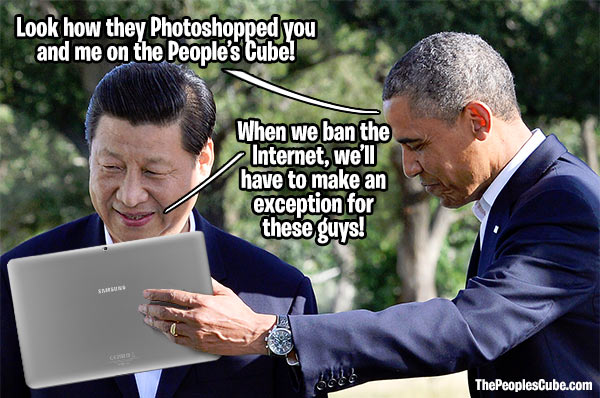 Naglaya Morda
- Herro peopre who no own the inteweb, can I have it?
- Yes, honorable Chairman, we have no problem giving away what we don't own. Our motto is: someone else create - we re-negotiate! - Our motto is, someone erse create - we confiscate.

Comrade Abrakham Linkol'n
Comrades,
Holy Beet Crap.
Can they not accelerate this process of censorship before t̶r̶u̶t̶h̶s̶ untruths are written about me and my 150 year old Tyrannical Revolution here in the former U.S. of A. is revealed?
We must keep these types of t̶r̶u̶t̶h̶s̶ untruths from the masses:
http://southernhistorians.org/freebooklet/