Genosse Dummkopf

Topic :
Rosinenbomber
(Candy bombers aka Raisin bombers).
_________
( first appearance
here
)
Rosinenbombing - that was, nay, that is a heartwarming story.
You remember, right? : WW2 finished, Deutschland cut into 4 occupation zones, Soviet Bear creates DDR (same procedure as always : inject KGB for control and training, install Moscow-schooled local party apparatchiks, disown bourgeoisie, nationalize economy, coopt-or-oust intelligentsia, fuck up press and education,
divide et impera
, and throw
circenses
- Soviet style - for "masses", prominently May-1). Berlin (quadrisected) an island surrounded by DDR, and Soviet Bear tries to drag the city entirely into DDR. Next (in June '48), Soviets block all supplies (via roads) to the three non-Soviet sectors. Bang. And Amis say : Ok, so we will fly all the goodies in (food, energy, materials).
Berliner Luftbrücke. It was many things ― a masterpiece of logistics (starts/landings literally every 3 minutes), airmen skill (though no "Bosnian Corkscrewing
™
"), a massive aid effort, and first of all a forcefull ― non-violent ― stand up against Soviet expansionist bullying. Airmen stunts! Wing wiggling for "hello, kids" and then "bombing" the kiddies with candy, raining down on tiny parachutes made of handkerchiefs. That was a spontaneous, "bottom-up" activity of the crews. My private label for this : Ami @ his best.
~
And as a side-effect : building a bond with Krauts, via help, and especially with kids, via emotion. A lesson in "nation building" - in this case, a spectacular success.
The spook ended early Sep. '49.
A win-win for Amis and Krauts ! ( and a lose-lose for the Evil Empire of yore ).
Kids are great ! :
Architecture buffs will recognize here : the kids actually "reproduced" Tempelhof, a spectacular piece of airport-architecture - at that time, a "revolutionary" design, these days still "valid" and used, in modernized form.
Others may wish to philosophize, where the heck did those Kraut kiddies get the toy aircraft from ? of US Air Force type (and decorated with Stars 'n Stripes) ?
---
Interested in details ?
micro-info
sympatico 5 minutes semi-documentary overview, ah, overfly :
(a full, 40+ minutes video : Col. Candy Bomber recollecting the story
here
, sympatico++)
plus very good WPedia overview (shockingly, no English version) : in
Deutsch
& pa
Russki
.
---
______________________________________
today for

all

genders,

not only F

(May-1!)
PROG OUT :
KRAUT ENVIRO-ZEALOT AND BROTHERLY AMI PROGRESS-FIGHTER ― LET US MARCH TOGETHER AS AVANTGARDE OF CHANGING™ THE WORLD WHILE

NOT

CHANGING THE KLIMATE™ !

Captain Craptek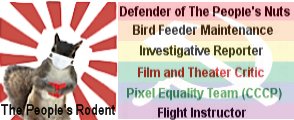 Comrade Dummkopf -
Remember,... The Children™ can't live by candy alone.
The Children™ shall have their ration of CUBES!

Genosse Dummkopf

Captain Craptek
Comrade Dummkopf - The Children™ shall have their ration of CUBES!
. . . and, ah, NUTS ?
_
J

Genosse Dummkopf

Heartwarming again:
Operation Rosinenbombing ended on May 12, 1949. Add 70, got TODAY.
_
(korrekt, Clara? ;-)
They did not "just land", and then "just start" (in a 3-minute rhythm). They had to be unloaded, in between. Amis orchestrated the ballet, swarms of toximasculinous (German) volunteers helped to shlep the goods.
BREITBART has today a nice
overview
of Operation Vittles, started on June 24, 1948. Plus a very simpatico 5-minute story of Uncle Wiggly Wings aka Colonel Gail Halvorsen (1st Lt. in 1948/9):
kids and teenies on the periphery of Tempelhof
(pic by Uncle Wiggly Wings, if I'm not mistaken):
And TODAY Uncle Wiggly Wings (now at 98!) revisited Flughafen Tempelhof!
Thanks, Colonel. Thanks, Air Force (+RAF). Thanks, Amiland.

... just imagine if, out of some abstract necessity, Operation Helping Wings had to be reinstalled these days .....

What a bouquet of outraged Current Truths
would thereupon fan out, transmitted from ze Cherman Zeitgeist-2019 to ze Masses.

(like in Amiland, the stimulator/carrier/enforcer of zat Zeitgeist is a knot of leftish "intellectuals"(msm-academia-educators)/green-red-polit-apparatchiks/behind-the-scenes-"activists/advisors" ; a clique

truly

representing just some 20-25% of the population here.)

CO2! Carbon! Death! Neo-Imperializm!
Ami-Go-Home! Go-Home! Go-Home! zat T

RRR

UMP! zat T

RRR

UMP! zat T

RRR

UMP!



(

R

: ze Cherman R, nichtwahr)