Chedoh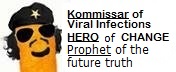 SAN DIEGO, CA - While on her campaign trail yesterday, Hillary Clinton attempted to woo a more conservative constituency by shooting a political ad in which she would familiarize herself with everyday blue-collar workers. The scene was filmed at a renowned San Diego country club from the early morning sunrise to the sunset.
Closing off the golf course for the filming event caused sudden cancellations of previously reserved games, including a tournament that was scheduled a year in advance by a local VFW Hall to honor their last few living combat veterans of World War Two.
Jeffrey Scripter, a bartender who was told to come in for work that day to serve the massive camera crew, described his experience on his Facebook page as "surreal."
"With all the different writers, directors, assistants, actors, extras, and even a special effects team with all their gear, it looked as if they were making a sequel to Pearl Harbor or some other Michael Bay scale movie," Scripter stated. "Worst of all, none of them even tip. #Myjobsucks."
Wearing recently purchased blue overalls, Clinton was seen marching around the golf course with a shovel in hand, followed by her personal camera crew and a group of professional actors who played uniformed groundskeepers. The scene involved her watering the lush green lawns and manicured gardens, while the land outside the the golf course was an arid desert due to the worst drought California has seen in decades.
Clinton then took her crew to the top of a hill and posed next to a push mower, basking in the dramatic rays of the low evening sun.
"I understand how you, everyday Americans, suffer when you have to deal with excess wealth," Clinton stated for the cameras. "If we don't control the greed of the 1%, their wealth is only going to grow and you will be increasingly living in fear of losing your jobs." She then turned her back to the cameras and attempted to operate the push mower, only to shriek in frustration moments later, "it's not turning on!"
The Democratic presidential hopeful inspected the mower by circling around it a few times. "Is there a remote control or something?" She tried clapping her hands at it as if it were a clap-light. When that didn't work either, Hillary Clinton pointed her finger at the film director. "Are you trying to make me look like an idiot?" she shouted. "That piece of garbage is supposed to turn on when I touch the handle! It's the biggest symbolic part in my ad, and we're running out of daylight. I pulled in a lot of favors to get this location today, so you better make this junk work right now, or you'll never work on a film project ever again."
As the desperate crew scrambled to find someone who knew how to turn on a mower, an enraged Clinton watched the sun set, screaming a steady flow of vulgarities at the staff and firing strings of people for having failed to film her favorite scene. The last rays of the setting sun lit up the hilltop with her darkening silhouette, as she repeatedly hit the director with a rake against the glowing red sky.
As darkness engulfed the deserted golf course, Clinton stormed to her limo, with the few remaining members of her crew scurrying out of her path in fear for their jobs. Not seeing her personal chauffeur in the limo, she attempted to drive off on her own, but because she hadn't driven a car in years, she bungled the broken U-turn maneuver and crashed into a potted plant.
After the chauffeur finally found Clinton spinning the limo's wheels in the flower bed and drove the self-proclaimed champion of the people away, there was an audible sigh of relief from the film crew, who were packing their equipment while discussing the possibility of editing the day's footage into a convincing video that might still help Hillary Clinton to win the election.

Comrade Putout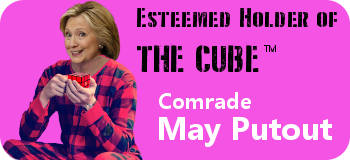 .


She's back and she's got a new ride,

Chedoh

...


.

Konservative_Punk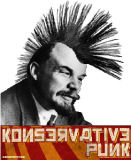 Was that the same director who was taken into custody after four Americans died in Benghazi, Libya due to violent protests sparked by that 'disgusting video' that we had 'nothing to do with'? The plot thickens... perhaps he was taken into custody and blamed by Her Royal Highness, the Presumptive Presidentess Elect, so that he could be 'secured' for future use as the People's Direktor of Riot-Inspiring Propaganda Films. Something to consider...


Ivan the Stakhanovets

She rides Chedoh?

Poor Chedoh ...


Kapitan Kangaroo Kourt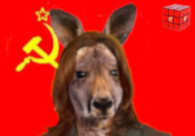 Chedoh
The last rays of the setting sun lit up the hilltop with her darkening silhouette, as she repeatedly hit the director with a rake against the glowing red sky.

When was Komissarka Pinkie promoted to our MTE's chief political advisor? That is an honour that all of us at The People's Cube can happily, and vicariously, share.

Andrey Vyshinsky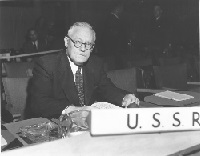 Watering grass? at a GOLF COURSE?!? In KALIFORNIA!?!?!?! Someone spilled the recycled tractor hydraulic fluid into the beet vodka mash there, for sure. Don't they know the Current Truth(tm) is that such horrific capitalistic exploitation of the working class's water, such as lawns and golf courses, is diverting precious millions trillions octillians of acre-feet of water away from ecologically supporting endangered and/or extinct species such as brown snail darters, delta smelt, and pro-free-speech Democrats?
Surely President Governor Jerry Brown's suede denim secret police will be visiting Frau Hilldog's campaign headquarters to exact the Proletarian Fish-People's retaliation for her blatant infractions against The People, The Children, and the Glorious Truth of Campaign-Donation-Based Water Allocations of Next Tuesday? Maybe Chelsea will look nice as a drawstring lamp...