R.O.C.K. in the USSA
Joplin, Missouri - AP (Associated Potatoes) - U.S. President B. Hussein Obama pledged today while visiting Ireland that he will be in Joplin, MO next Tuesday in order to feel the pain of the devastated victims of Sunday night's tornado, as well as to campaign for his 2012 election bid.
Staring into an unprecedented bank of teleprompters and sipping an Irish brew, Dear Leader winked an Irish sort of a wink and stated that, barring potential golf interruptions, he will, indeed, visit the site of the recent horrifying destruction in Joplin, where 1500 are currently missing and at least 122 are known to have been killed by the tornado.
"Let me make this clear," stated His Excellency, "my campaign will not be slowed down by a little high wind - after all, my unicorn is more than a match for anything Mother Nature can throw at me, umm, us."
Vice President Joe Biden wiped away a tear and muttered something like, "F***ing A right!"

Kelly Ivanovna/келя ивановна
Great news, comrade. I understand he needed to click his shoes together three times and say, "There's no place like MO, there's no place like MO."


Sugar Daddy Bear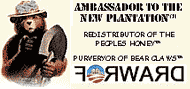 Just imagine if it were the Bu$hitler slugging down Guinesses in Ireland right now, while the devastation and death count from deadly tornadoes not even being addressed or cared about, talking with a fake brogue—that would give Saturday Night Live enough material to go beyond the Tuesday After Next Tuesday. The media would be far beyond hysterical, going into hyperdrive, inventing new words and phrases not yet known to mankind to describe such dereliction and utter apathy.

Why, the vindication would be so sweet it would be poisonous!

But thank Stalin we have a REAL leader; a REAL president among us who will forgo some of his precious drinking time just to acknowledge briefly that he heard something about some tornado thingie happening somewhere in BFE Mo. and when he's done with his boozing and campaigning in a foreign country that doesn't have his birth certificate Irish vacation of no importance, he might chance on the distressed area for a brief photo-op or two and pretend to care about anything that happened.

I can't WAIT to reelect this guy! No, really!


R.O.C.K. in the USSA

Grigori E.R.

This speaks to the sufferance of all great leaders. At times, whole segments of the population will suffer and Dear Leader suffers along with them, but a great leader must, at all times, remain focused upon the endgame. So to with Dear Leader's good will tour of the British Isles. He suffers for the betterment of the Amerikan people, for the enlightenment of the World. This is his gift to us, his adoring subjects and ye, unto mankind.

Understanding of his good works is complex. This is further exasperated by the likes of the Israeli Prime Minister addressing our beloved Congress. His speech yesterday was an affront, a stark contrast to the "feel good" speeches of our Dear Leader. Who does he think he is? It was unbelievable. He spoke in plain, truthful words of freedom, Democracy and the rights of common citizens to defend themselves, of an enduring bond between the People of Israel and the People of the US. As if all this wasn't enough...sigh... and the final blasphemy...he ended his speech with...gasp...God Bless America!


Lyman DeKoquonut

He has three years to get here, it's only 2008 where he is at.


General Confusion

His trip to Joplin won't be a total waste of time, that evening there will be a multi state fundraiser that could net him millions. He may even give a hundred bucks to Joplin.

His companion will drive around pointing fingers and making sure local food stuffs are on the approved list.

Major says You got that one right, sir!