Broadside

The Senate is our last best hope against the largest tax increase in our country's history.
Let your Senator know what you think. Melt the phone, stuff the inbox and let it be known that you are sick of DC spending our money on junk science projects like Global Warming.
Find your Senator:
LET THEM HEAR YOU
Axelrod:
TAX INCREASE
Michael Schaus:
COST OF LIVING
Harry Reid:
TELL HIM
VISIT ME HERE FOR FULL SIZE IMAGE

Commissar_Elliott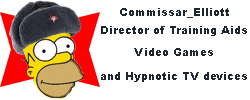 With a filibuster-proof Senate, that will be difficult.