Komrade Zarkof
Comrades,
Joyous news from the hate-mongers of the VRWC!! I was checking some of the Reich Winger websites to see what kind of Hate, Lies and Propaganda they are saying about His Excellency, Barack Hussein Obama and ran across this story. Here's the link:
-
http://www.worldnetdaily.com/index.php? ... geId=94331
It complains about Our Dear Leader making a deal with the European's in the G20 to have an International Commission supervise and regulate ALL corporations in the USSA. It's true, only the rest of the world knows how to run this country!
This is indeed Glorious news!! Soon, every Robber Baron will have to learn about being responsible and show due respect for the International Community. Now, the greedy KKKapitalist's will have to learn how to be good citizen's of the World of Next Tuesday™. Now maybe they can start to pay a tax to the UN, to show that they've learned their lesson and want to be good Socialist enterprises.
These hate-mongers are complaining about losing AmeriKKKa's sovereignty to some Commitee overseas. This is truly UN-Progressive thinking, especially in these troubling economic times. Who needs the outdated and corrupt Declaration of Independence and Constitution, when we have the rest of the world to show us the right and Progressive way to run our emerging Socialist nation?
Oh Comrades, my leg is Tingling uncontrollably and I may soon faint from the sheer pleasure of thinking about this latest "Stimulating" initiative from Our Dear and Wise Leader!!

Commissar_Elliott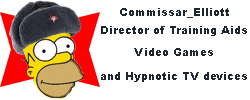 Well, Obama is right, we haven't shown as much appreciation to our European allies. Once again, I blame the Bushitler.