Superkommissar Maksim
Did you know that Barac Obama leads field in unsolicited campaign songs? It is our policy to contribute to every unsolicited collective effort. When hope and change fail, there's always campaign songs.

Presenting new hit single from the greatest songwriting team the world has ever known:

"Obamanation"
by Lenin and McCartney
(Great for marching together)
~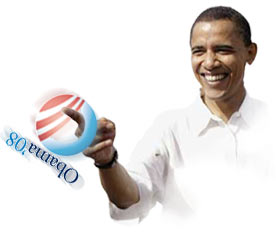 You say you want an Obamanation
Well, you know
We all want to Change™ the world
You tell me Barack's our salvation
Well, you know
We all want to Change™ the world
And when you talk of nomination
Don't you know you can count my vote
Don't you know he's gonna be alright
Don't you know he's gonna be alright
Don't you know he's gonna be alright
You say he's got a real solution
Well, you know
We'd all love to elect this man
He asked me for a contribution
Well, you know
We're all shouting Yes We Can
But when you want money from people raise the tax rate
All I can say is the brother will win my state
Don't you know he's gonna be alright
Don't you know he's gonna be alright
Don't you know he's gonna be alright
Don't you know he's gonna be alright
You say he'll change the constitution
Well, you know
The founders are all dead
You tell me it's the institution
Well, you know
You'll get free healthcare instead
I'm told he carries a picture of Chairman Mao
You know their polices are similar anyhow
Don't you know he's gonna be alright
Don't you know he's gonna be alright
Don't you know he's gonna be alright
Alright, Alright, Alright, Alright, Alright...
Premier Betty
What's
Lenin
doing on his back? Are they exchanging "progressive ideas"? Maybe trying to get the creative "juices flowing"?
Okay, I just made myself throw up in my mouth....
Red Square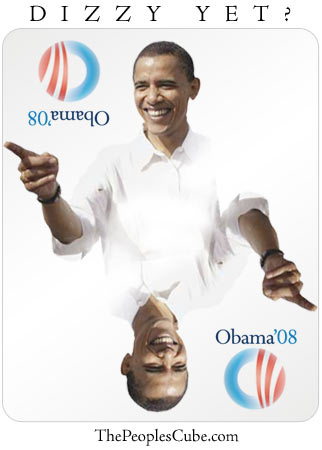 Red Square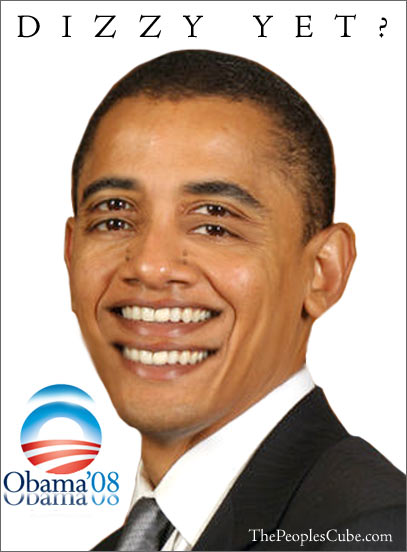 Premier Betty
Sheesh, isn't it about time Obama had some songs about him? Took friggin' long enough.

Red Bubba
That's really beautiful. When the crew from the Central Government comes over to adjust my thermostat, I'll ask them if they could turn up my volume for me.

Mikhail T. Kalashnikov
Have no fear, comrade, the volume will never be allowed to be turned off on your new, state provided, doubleplusgood viewscreen. Just remember that the authorities can spot facecrime. Remember, Big Brother Loves You.

Comrade_Tovarich
Yeah, rock on! Keep on truckin'! Don't ever change! Er, uh, wait a sec...

Considering the recent poll numbers, it seems "The Hopes, They Be A-Changin'."