Welcome to our special "Merry Solstice" page for more holiday awareness, progressive depression, and collective self-criticism.
Disturbing music and upsetting graphics from Visual Agitation Directorate will bring true holiday feeling down where it belongs. Send this page to your friend/partner/home appliance to ruin correct his/her/its Christmas Solstice experience. The page features new and old material, songs, and a special commercial message from Che Guevara dressed as an elf.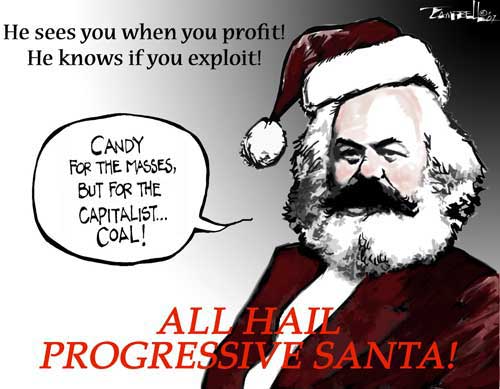 Image liberated in the spirit of holiday love, sharing, equality, and redistribution of wealth from The Detroit News.
Come along comrades! Gather 'round the dung fire, lift your cups with Renewable Light Beer, and sing along! We have new Holiday songs this Solstice season from the Goremon Choir:
And, from our friendly followers of the Religion of Peace and Anti-Imperialism™, there's last year's favorite...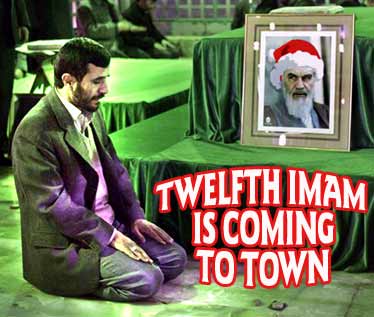 And don't forget to reduce your carbon footprint this holiday season with Renewable Light Beer!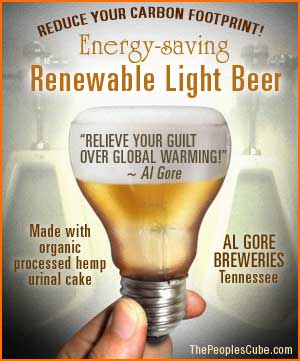 ---
In the unlikely case you are a reactionary,
knuckle-dragging, conservative right-winger, we wish you a
MERRY CHRISTMAS!

---
---
Ernesto Che Guevara sold 100,000,000 T-shirts this year alone! He's world's greatest T-shirt salesman. Come on, trust-fund college kid! Be a non-conformist because everybody else is! Being popular is so elfin' hard. Che shirt = instant recognition. Viva la merchandise!

Who's your daddy? Have yourself an nice progressive Christmas!
---
| | |
| --- | --- |
| CLick here for a larger image | In the true spirit of Christmas collectivism we decided to lift off this traditional holiday greeting that for a few years was being shared equally by the multitudes of Internet users, courtesy of an unknown progressive member of the National Lawyers Guild or the ACLU or both. To be a true progressive you have to believe that no idea can be called good, bad, new, old, or stolen, since all ideas reside inside our common collective consciousness which belongs to no one in particular and to everybody at once - an entity also known as The People™. So if you already saw this greeting before, go ahead and refresh your memory; if you're seeing it for the first time - enjoy! |
---

A snapshot of the poster we took with our own camera at the local post office.

This holiday season our warmest greetings go to the US Postal Service, an exemplary government-run organization, for issuing an official holiday poster that documents a positive paradigm shift in our national mentality. Displayed at post offices nationwide, it unobtrusively reminds Americans what national holidays they should observe this December: Hanukkah Ball, Kwanzaa Parade, Muslim Eid Carnival, Breast Cancer Gala, and Family Violence Bash (not necessarily in that order). In case you missed it, Chr***mas is not part of the holiday season. Come to think of it, it has never been. What Chr***mas? Never heard of it.

The suspicious Madonna stamp on the poster may seem like a weak compromise, but we believe it's a wise move to soften the blow and to ensure a smooth transition to a new progressive era.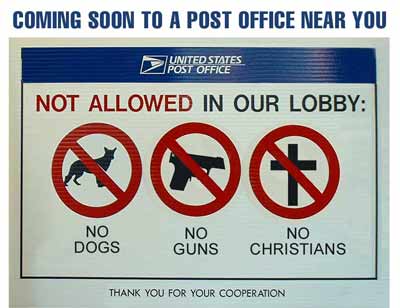 ---
| | |
| --- | --- |
| Trois acclamations to the French! | How come we didn't think of this first? This grand idea has all necessary elements of a progressive protest. The BBC and UPI report on a New Year's demonstration in the French city of Nantes, where the protesters waved banners reading: "No to 2007" and "Now is better!" The marchers called on world leaders and the United Nations to intervene in the "mad race" of time and declare a moratorium on the future. With the arrival of 2007, as the protester's demands remained unmet, they realigned their efforts against a new target, chanting "No to 2008!" They also vowed to stage a similar protest on Dec. 31, 2007 in Paris. |
---