INTERPRETING
THE RESULTS:
Find your number in the Guilt™ hierarchy
You and your life's work are barred from being mentioned in media publications. Ineligible for re-education. After the Revolution subject to Revolutionary Tribunal Che Guevara style (shot in the head without trial). Everyone you ever came in contact with has been contaminated and is therefore also guilty. We will find them, too. You are all incorrigible corporate war-mongering Zionist terrorists; the people will continue to resist your capitalist attacks by any and all means.
You are an unfeeling tool of the capitalist class and a menace to the state. Barred from working in educational, media, or entertainment industries. Not qualified for government grants or any other public assistance. Re-education strongly advised. After the Revolution you and your family will be arrested and relocated to a place where The People's Scientists will remove your guilt.
The only way for you to redeem your existence and feel better about yourself is to donate the amount that matches your score to the People's Cube. Donations are to be made here (link to PayPal). Print out and show the receipt to your local Kommissar. After the Revolution one receipt will be redeemable for one Get Out of Gulag coupon. Not for sale. Not transferable to family members. Violators shall be subject to Revolutionary Tribunal Che Guevara style.
You are neutral, neither good nor bad, but only one who arouses suspicion. Expect to be placed under continuous surveillance. Eligible to work in the media but only as a token "conservative commentator." Grants or any assistance from the government and charitable institutions denied.
Entitled to government grants and promotion within the administrative hierarchy. Recommended for media appearances and awards. As a trusted member of the community you will be placed on only intermittent surveillance. We will count on you to provide us with useful information on your neighbors, co-workers, friends, and family.
The sense of entitlement is strong within you, comrade! Indeed, you are qualified for public assistance in the amount that matches your score. Print out your score and bring it to the local Kommissariat to redeem for one of the following: (A) free NPR broadcast by members of Media Workers Union, (B) free indoctrination by members of Teachers Union, or (C) free entertainment by the best state-sponsored members of Artists Union who will place a cult object of your choice into a bucket of urine.
Qualified for a position of a media darling, most-talked-about celebrity, the sexiest man / woman / transgendered person alive, and positive role model for the young generation. Entitled to winning national and international prizes in the field of the Party's choosing - from Oscar, Nobel, Pulitzer, Emmy, and Golden Globes to the prestigious "Pinky's Beet of the Week at the People's Cube Award and Bumper Sticker."
Congratulations, Comrade! The People welcome you as an Ultimate Guiltless Member of Society! Call the Obama Administration and tell them you are entitled to leadership positions inside the government, non-profit, and community organizations, as well as subservient media, educational, or entertainment branches.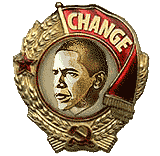 ---