Red Square

Comrade Cube visits Colorado and New Mexico... I simply followed it as one of the squares on its glorious surface... one of many... lost in equality of the collective that gets continually shuffled... so I never really know which square I really am... but does it matter if we are all equally replaceable?
Comrade Cube decided to test the Google's online community named ORKUT (reminds us of Vorkuta, the capital of a major cluster of Gulags). That's where we created our first Cubist online album...
http://www.orkut.com/AlbumList.aspx?uid=5613093226210029111

Premier Betty

At first I thought that said TACOS. Mmmm... tacos....


Red Rooster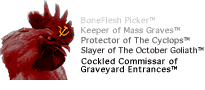 Comrades,

We cannot log into to the neo-Kapitalist collective Orkut™. Any way we can see some of these glorious pictures Colorado and New Mexico Comrade Cube pictures in more equal sizes right here?