ComradeFreeLunch
NU WP GHWM, LM'BM OHS Z RPRSMW THQ MUVNUO ZQOXWMUSR: LM AXRS SZKY ZUV SZKY XUSNK WP LNTM NR QNOGS. - AZRHU KHBM
( Is written in mother tongue. You must have wisdom to perceive the wisdom. Is wise, yes? Yes.)
============================================
ComradeFreeLunch,

It has come to the attention of The Politburo that after sufficient warning you have continued to dig beets with a short shovel. Until you are ready to post more substantial opening threads on The Peoples Blog your party privileges will be revoked. Please commence two weeks of self criticism and self flogging with short shovel.


Вперёд, к победе коммунизма!

-Supreme Commander of Threadjacking & Stuffed Mice Toys™

Red Rooster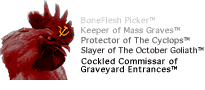 Oh Lenin! Another prole in need of self-flagellation, what is happening to my beloved Communist Party?


ComradeFreeLunch
I have had zero warnings until your warning above.
Zero warnings are not "sufficient warnings."
Meanwhile what constitutes "quality" in your collective is different from "quality" in mine.
If you and your Kulaks cannot translate, you have a problem, not me. It is really quite simple, just ask.
================================================

There is no differing quality comrade, all quality is equal.

Please refer to warning:
http://thepeoplescube.com/peoples-blog/ ... tml#130009
-Supreme Commander of Thread Jacking & Stuffed Mice Toys™