ThePeoplesComrade



Conservatives can not escape responsibility for ruining our Glorious State of Affairs through their Low Tax policies. When the rich do not pay their fair share, we all suffer. We demand higher taxes now, for the good of The People ™.


Comrade Whoopie

That's right comrade. Republican's can not escape blame for starting this trend with their 5.6% unemployment and their $400 Billion deficit.

It only stands to reason that you can't turn the ship of State on a dime.

But 2.8 Trillion dollars, that's different. With that you can turn the ship of State into bankruptcy.


The Skinnee Jay

I think we should respect the Mayans and end the world at 2012


Shovel 4 U
Damn wormholes...

Boris Badanoff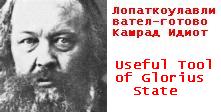 For just a second, I thought the background was Detroit - 2010!
Then I saw Øbama's face.


Fraulein Frankenfeinstein

Poor pooor, dearest fearless Leader. Just look at the devastation Bush has wrought. I was so hoping Obama could bring the Promised Change™ and that the Democrats, who were controlling the last 2 dismal, unemployed years of the Bushitler decade, would turn things around. Sadly, not even the magnificent of a Obamaocracy, could turn things around. (it does look like Detroit though, does it not??) I wonder if this most accurate photo will be hung in the White House in memoriam to his achievements trying so hard?


Khruelchev

Comrades,
To see if this is Detroit, you simply need to look for the Union Label™. But I see a definite sign that the Peoples Collective World of Next Tuesday™ stamp has been applied to the architecture. They are all equal rubble now!! Wait till they finish with the economy!
It will be glorious!


Sugar Daddy Bear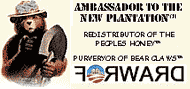 It's disgusting what that Bush did to the country. His failed policies, voodoo economics that kill poor people and let the rich get big and fat. This picture looks like "the chickens come home to roost!" with all of Bush's illegal wars on muslim countries!

Is Dear Leader waving "Hi" or asking for help?


Mrs Al Czarweary

I was for seeing foto as proof of Dear Leader's good works of Green Revolution and his making for the jihad to turn Washington DC back into the swampland of its origin.


Yakov-Luvlas

VICIOUS LIES!!!! Our Glorious and Patriotic Leader, the Mighty and Valiant Obama, our Komrade of Komrades, is seeking to BETTER the USA! LIES and FALLACIES! FALSEHOOD and MALICE! EVEN THE NEO-KONSERVATIVE'S LAUGHABLE ATTEMPT AT HUMOR IS WORKING AGAINT THEM: that photograph of our Dear Leader SHOWS GROWTH!!!! Can you not see the green blade of grass next to the Renovated Kapitol Buildng! Growth! These are fallacies and vicious, baseless rumours propagated by the Neo-Konsevative Rght and their Paid Aktors and Aktresses! All is Glorious with Komrade Obama!
If Homosexuals really do get to serve openly, we may actually see the place obliterated: gut the troops, cannibalize the Intelligence Firms, and bringing in a Nuke will be as easy as pie!

Groucho Marxist

Remember: It could have been worse!!!!

To your shovels.