F.A.R.C.-EP

Comrades, I was pleased to read this Palin-Hit-Piece at the great site Slate.com. Our comrade, author Alexandra Gutierrez, wrote this prophetic piece just this past Monday....
http://www.slate.com/id/2264502?wpisrc=xs_wp_0001
Quote:
Mama Grizzly Man
Why the candidate of Sarah Palin and the Tea Party Express is losing in Alaska.
By Alexandra Gutierrez
As you know comrades, we only report on what we **want** and **hope** to happen, not what actually happens. Comrade Gutierrez obviously HATES the nasty and vile Palin as much as we do. The author fortold many things in the article...
Quote:
UNALASKA, Alaska—On Tuesday, in her home state, Sarah Palin's favorite will probably get trounced. Joe Miller is widely expected to lose by a large margin to incumbent Sen. Lisa Murkowski in the Republican primary—an embarrassing defeat for the former governor, who has endorsed Miller, but also to Miller's other major backer, the Tea Party Express.
Now, remember comrades, you only have to write what you want to happen, and it always comes true. Murkowski trounced Miller Tuesday. Comrade Gutierrez was very bold, she made many other objective assertions....
Quote:
Palin and the Tea Party Express endorsed him. Miller sounds like he came out of some kind of Tea Party laboratory, with degrees from West Point and the University of Alaska, a Bronze Star from fighting in the Gulf War, and "correct" positions on guns, abortion, God, and big government (for, against, for, and against, respectively).
I almost cried when I read that paragraph. The bias was so overbearing and pungent that it did bring a tear of joy to my eye; but it did not fall down my face. I saved that tear for this wonderous display of objectivity...
Quote:
"I don't think the Tea Party movement has much currency in Alaska," says Ivan Moore, an independent pollster based in Anchorage. Moore's poll in July showed Miller down by 32 points, and other polls have come up with similar numbers. "From the very beginning, he has positioned himself so far to the right of the ideological spectrum and attached himself to the Tea Party movement, which even in Alaska is perceived as being a pretty extreme right organization," Moore says.
Yes, the "independent" Moore is very korrekt with his thoughts, and notice, he's an independent! Great Job Comrade Gutierrez! For lessons in Korrekt jounalism, look no further than Comrade Gutierrez at Slate, she defines korrekt objectivity!

Opiate of the People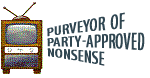 Comrade Moore is so accurate a prognosticator, we must recruit him for the People's Council of Economic Advisors!


Sugar Daddy Bear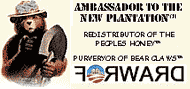 Thank G-Obama-D for Party™ loyalists like Guitarazz who write what we want to believe; not that it's believable. In that spirit, it's wonderful to know that bad, nasty Tea baggin' reichwinger Miller lost because Sara (P-tui) Palin "endorsed" him, and our sister in Big Government won it big for the People™! And thank G-Obama-D for comrades like Moore! Even when independent pollsters like him are wrong, they're right, er... korrekt!


Comrade Whoopie

Whinny-da-PBUH
Thank G-Obama-D for Party™ loyalists like Guitarazz who write what we want to believe; not that it's believable.