Ivan Chetvyorty





Was this a revival meeting? Did Chairman Obama put his foot on the throat of the clown of bloat? Did Chairman Obama really give this woman a home? Viva the Neo-Marxists! Lets hear it for trickle up poverty and the elimination of the middle class! The beautiful glorious world of next Tuesday is upon us comrades! All Hail the ONE! If nothing else, she has a car to live in and a sagging-sideways-wearin'-ball-cap-thug special Ed. student has a job! Give me CHOPE 'till I choke!


Komrade Zarkof
I feel the love and concern of The One who gives us our daily bread, health care and parking space for our mobile "home". Blessed be The One!!


Marshal Pupovich

Thanks comrade for posting this. I heard the audio earlier, but it so much more inspiring to see President Santabama helping these deserving proles.


Commissar Obamissar V

Hopefully ol' girl got some carbon credits for living in a small car! Can you imagine how little her carbon footprint must be?! Maybe he put her in touch with The Oprah, Obamissar of giving shit away to the unwashed masses. My best guess is that this woman's problems were all healed by His kiss.

-OV


Commissar Obamissar V

And for the particularly motivating Comrade with the McJob-
What the hell are you talking about?! You're a college student. You're most likely working part time. You've most likely been there 4.5 years because you started in high school and continued into college. I applaud this effort. Working your way through school is a challenge and at least you're doing that! However comma pause working shitty jobs to get through school is the American way. It builds character, engenders respect for work, teaches the value of a dollar, encourages time management and responsibility, and prepares you for REAL life once you leave college. STFU. When you start working full time, you'll start earning benefits. Yes- you do have to WORK for what you want.
These people look at the Obamessiah like he's some kind of freakin Cosmic Cash Machine where they enter their PIN of gripes and can withdraw what they like.

Marshal Pupovich


Commissar Obamissar V

Marshal Pupovich
The O will perform these miracles and more to come! He will now go about cleaning up space as well!
Nothing a few hundred billion CEUs couldn't fix. All those supposed "leaks" of millions of credit card numbers are actually "acquisitions" by The Party to streamline the spending of OPM.
Doesn't this REDUCE bureaucracy?! No, thought criminal. Additional levels of government jobs are created to read the credit card numbers, ensure the limits are exceeded, and dream up new ways to spend the CEUs. It's for The Common Good!
-OV

Commissar_Elliott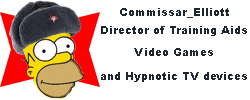 That prole isn't showin the Obamasiah the respect he deserves! The prole must first approch The One in rags, with a "change" cup and reek of my brother's SBD farts in my car. Than, if they are selected, they must approach on their knees, crawling to him. When they reach him, they must than bow down to him chanting "Hope and Change (3x) all for the Greater Good". If the Obamasiah agrees to let him/her speak, they may do so, but end their sentences with either "hope" or "change" like "What are you going to do about the economy change?" or "Will I get a tax cut hope?" If he doesn't agree to let you speak, you must than subject yourself to a 24-hour community organizing program, to learn what you did wrong to approach him.

(off)
There's a reason I call him "The Obama" now, and this gansta reject just proves it.