Ivan Betinov

As a wave of cognitive dissonance reverberated across the nation today, a record number of proles flooded the Jiffy-Lobo locations from coast to coast. If trends hold true, perhaps 83% of the nation's registered Democratic voters will have undergone at least the basic Kwik-Wipe procedure by midnight Sunday.
The surge is attributed to the statements made by President Obama during press conferences this week. On July 11 he assured the nation that "As all of you know, I met with congressional leaders yesterday. We're going to be meeting again today, and we're going to meet every single day until we get this thing resolved." On July 15 he announced a suspension of the conferences: "As you know, yesterday we had another meeting with the congressional leaders. We're not having one today." This contradiction initiated a late afternoon rush Friday as proles stopped in to have their perception of the current truth adjusted to fit the President's latest statements.
~
Friday was not the first day of the surge, however. Some of the more ideologically attuned proles were deeply upset by the July 11 presser. "Everytime this President opens his mouth now, I think, 'He wants to throw this election,' " said Sean Turbine as he waited in line Wednesday. "And, you know what, I'm pretty sure he will succeed. I will not vote for this dempublican who is stomping the democratic party and all that it once stood for." Fortunately an attendant overheard the troubled youth and more importantly noticed the effect his comments were having on other waiting proles and moved him to the head of the line. Shortly after his treatment, Turbine texted on of his classmates:
Quote:

Who put us in this mess, seems like bush and the republicans were in total control of are country, the dems could not get a bill passed. Bush, channey started those wars we always sold bonds to pay for wars, but no Bush and the republicans got a charged card from china, and went hog wild how many billons did halburton for jobs, build half done jobs but got full pay, 6 c-130 planes 13 and half billon gone nobody knows yet today where. Sen Dich Shelby was the head of the banking commmittie, he cut and slashed rules for banks and wallstreet that were there for 60 years why, for buddys to gamble, and they did and it all comdown. Who was the president, the house,congress, senate were in control. All this shit happen before Obama was president, but who blamed him for the crap today the same people that caused it all. If america had any sence thay vote every republican out the next 3 elections, force the dems in term limits and public flinance if they dont we weed them out. But the guilty party should pay for what they did, we also lost full health care because of the and there billonare frinds in business.Now there fighting for the rich to keep all there money and you and me to pay for the dam mess they made. I hope america wakes up before it to late, now the party is being taken over buy a bunch of raceest nuts.

"It is this kind of gibbering incoherence that is our goal at Jiffy-Lobo," said an obviously proud Father Prog Theocritus.
"I was a little shaky there for a while Wednesday," admitted Amanda Juanita Epstein after a Kwik-Wipe session. "He kept talking about rolling back the Bush Tax Cuts for millionaires and billionaires and corporate jet owners, and it seemed odd to me that he thought people earning over $250,000 a year were billionaire jet owners. Now I'm perfectly willing to believe that my Mom and Dad are evil billionaire jet owners. Daddy owns four dry cleaner shops and I barely ever get to see him when I come home from college. Now I know why!"
"I didn't really need a Jiffy-Lobo," admitted her companion, Pierce Inkerman. "I fully believe that President and Mrs Obama regularly donate hundreds of thousands of dollars that they don't need to put kids through college. I think it's called a Pell Grant. They invented it."
All of the proles were happy after getting their Jiffy-Lobos. Hillary Huma-Wasserman was positively radiant as she twisted her hair around a finger and stared at the sun. "I'm like really glad I came in today. I like not paying close attention to the ins and outs of how a Treasury option goes. I really shouldn't. I'm worrying about my family, jobs, and the neighborhood. I'm glad I have political elites to worry about these things for me. That's why the most noble profession is government bureaucrat."
This weekend marks the biggest surge in Jiffy-Lobo activity since the passage of ObamaCare in March 2010.
"We thought we had hit the all-time high when Speaker Pelosi told the proles they had to pass the bill to find out what was in it," said Southeast Regional Jiffy-Lobo Director Simon L. Gree. "This blew that right out of the water, though."
All Metro area Jiffy-Lobos will be open late to accommodate the needs of the community.

R.O.C.K. in the USSA

I took this photo this afternoon from my office window of cars lined up going to and from the local JiffyLobo™:
Amazingly, the JiffyLobo™ is actually over three miles away! And as I look out my window now, several hours later, they're STILL bumper-to-bumper.
Thank Lenin for JiffyLobo™, where your ObamaCard™ is always welcome!

Ivan Betinov

If you are a comrade who has resorted to Jiffy-Lobo this week, the Party is soliciting testimonials. If your story appears here, the Party has authorized the reward of a bus pass good for all public transport in Tver (off-peak hours and weekends only).


Commissar M

I'm convinced that we must remove more of their brains to fix them and keep them fixed. Public education, non-stop noise and "entertainment" laced with proper Party messages, encouraging and rewarding a life of superficial, irresponsible behavior and STILL, some of the Proles are using their prefrontal cortexes from time to time.

The Proles must not be allowed to think, attempt to reason on their own or form any concept of themselves as individuals with "liberties" and worse still, "God-given rights". This way lies madness, Comrades and it seems that even our Jiffy Lobos aren't fixing the problem.


Vladimir_Scratchanitch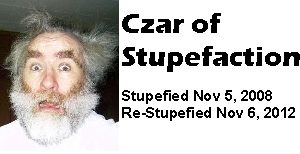 From the

Humanist Manifesto I of 1933

-
ELEVENTH: Man will learn to face the crises of life in terms of his knowledge of their naturalness and probability. Reasonable and manly attitudes will be fostered by education and supported by custom.

We assume that humanism will take the path of social and mental hygiene and discourage sentimental and unreal hopes and wishful thinking

.
Medical Dictionary
lo·bot·o·my

definition
Pronunciation: (lə-bŏt'ə-mē, lō-)
Function: n
surgical severance of nerve fibers connecting the frontal lobes to the thalamus performed especially formerly for the relief of some mental disorders called also leukotomy compare LOBECTOMY
Merriam-Webster's Medical Dictionary, © 2007 Merriam-Webster, Inc.
=======================
Cultural Dictionary
lobotomy
[(luh- bot -uh-mee, loh- bot -uh-mee)]
A surgical incision into one or more of the nerve masses in the front of the brain. A lobotomy may be performed for the relief of certain mental disorders, although it has been largely abandoned in favor of less radical treatments.
*
Note :
Because people who have had a lobotomy often become quite passive after the operation, the term is often used to refer to someone who shows a lack of response or reaction: "She was so tired she just sat there as if she had been lobotomized."
The American Heritage® New Dictionary of Cultural Literacy, Third Edition
Copyright © 2005 by Houghton Mifflin Company.
Published by Houghton Mifflin Company. All rights reserved.
*

Grigori E.R.

Commissar M had a good point about removing more brain matter. This will require better access to the brain. Also, the tremendous demand for treatment has exceeded our wildest expectations so we need to speed the process up.
Maybe we can cut the skullcaps open and have them open on a hinge? This would give quick, full access to all brain matter. Both problems solved. Can we get some of the new stimulus money for the installation of these open and close skull caps?
It worked well for this test subject:

Shovel 4 U
Geeezsh. The Party
foresaw the need for expanding Jiffy-Lobo facilities nearly 5 yrs. ago. We are building them as fast as we can. Chill Цомрадес.