TheFineReport.com

Raum Emmanual Goldstein
Mr. Report…. (I'm not sure if I should call you Komrade).

Perhaps you are some TEA-rrorist Troll attempting to rile the passions of my Komrade Kubists? While your attempt is laughable, Prima facie. I caution you, sir, to continue at your peril.

I can assure you, your slanderous, libelous photograph bears no resemblance of the members of the Inner Party elite you are attempting to malign (although the girth of the schwein labeled 'Janet Napolitano' does sort of remind me of Big Sister's generous proportions).

Secondly, the Inner Party elite are incapable of lying to anyone, by virtue of their position. When one has ascended to the highest authority in the Universe – the very Leadership of the Federal Government – then one, logically, becomes the ultimate arbiter of TRUTH (unless, of course, they are). Therefore, any rational being evolved beyond the Neanderthal-like mystic notions of 'morality' incongruent with modern science must conclude that every utterance of those Great Patriots listed in you imagery is beyond question or critical analysis (regardless of the improper visages assigned in your unfortunate snap). This, of course, is not at all applicable to members of the RethugliKKKan 'party' as they ARE genetically inferior Neaderthals encumbered with all the mystical trappings of a 'higher power' somewhere out beyond our atmosphere (which they cling to, despite the scientific evidence to the contrary).

You see, the message portrayed in your image presupposes that somewhere or other, outside oneself, there was a 'real' world where 'real' things happen. But how could there be such a world? What knowledge have we of anything, save through our own minds? All happenings are in the mind. Whatever happens in all minds, truly happens.

Now, compile this fact with another fact… You understand well enough how the Party has obtained and shall maintain itself in power. Now tell me why we cling to power. What is our motive? Why should we want power?

You may be inclined to believe that WE think we did not seek power for its own ends, but only for the good of the majority. Certainly, that is what we would like our charges to believe. It is believed that we sought power because men in the mass were frail cowardly creatures who could not endure liberty or face the truth, and must be ruled over and systematically deceived by others who were stronger than themselves. That the choice for mankind lay between freedom and happiness, and that, for the great bulk of mankind, happiness was better. That the party was the eternal guardian of the weak, a dedicated sect doing evil that good might come, sacrificing its own happiness to that of others.

Now, while there is a grain of truth to this sentiment, you must understand that the Party seeks power entirely for its own sake. We are not interested in the good of others; we are interested solely in power. Not wealth or luxury or long life or happiness, or thick slabs of kobe beef: only power, pure power. What pure power means you will understand presently.

We are different from all the oligarchies of the past, in that we know what we are doing. All the others, even those who resembled ourselves, were cowards and hypocrites. The German Nazis, the Russian Communists, even Bush-itler came very close to us in their methods, but they never had the courage to recognize their own motives.

They pretended, perhaps they even believed, that they had seized power unwillingly and for a limited time, and that just round the corner there lay a paradise where human beings would be free and equal. We are not like that. We know that no one ever seizes power with the intention of relinquishing it. Power is not a means, it is an end. One does not establish a dictatorship in order to safeguard a revolution; one makes the revolution in order to establish the dictatorship. The object of persecution is persecution. The object of torture is torture. The object of power is power.

We are the priests of power... for God is power. But at present power is only a word so far as you are concerned. It is time for you to gather some idea of what power means. The first thing you must realize is that power is collective. The individual only has power in so far as he ceases to be an individual. You know the Party slogan: "Freedom is Slavery". Has it ever occurred to you that it is reversible? Slavery is freedom. Alone -- free -- the human being is always defeated. It must be so, because every human being is doomed to die, which is the greatest of all failures. But if he can make complete, utter submission, if he can escape from his identity, if he can merge himself in the Party so that he is the Party, then he is all-powerful and immortal. The second thing for you to realize is that power is power over human beings. Over the body but, above all, over the mind. Power over matter -- external reality, as you would call it -- is not important. Already our control over matter is absolute.

Why, only just a while ago, Nancy Pelosi – on MSNBC, no less – made it quite clear that Obamacare will NOT raise healthcare costs. Now, such a claim – to YOU – might defy the Laws of Economics as well as strain the bounds of reality. However, as a member of the Inner Party, Kom. Pelosi is authorised to make any statement…and it shall always remain TRUE regardless of how ridiculous it may sound to you. You are simply not intelligent enough to discern the sophistication of her musings. Perhaps if you were so endowed, I could have you employed as an MSNBC Anchor. That you could see any evidence to contradict Kom. Pelosi, you must understand these were false perceptions…products of self-deception.

Were you more properly evolved, you might perhaps fathom these essential truths, regardless of how quickly they change. Perhaps you require professional help?

As an aside, I find it rather charming that you have sought to portray our Inner Party elite as schwein. In fact, your portrayal – were it not so infantile – might be construed as complementary! May I direct your attention to Mr. George Orwell's glorious work: Animal Farm? In this fine illustration of what a Marxist dystopia utopia may be in the World of Next Tuesday, those animals who lead the revolution and are best equipped, intellectually, to manage it are in fact….THE PIGS! What was the phrase they coined? Ah, yes…"Some are more equal than others."

In the meantime… DOSJ has seized confiscated placed in protective custody your telephone records. Without going into details of possible allegations of adult telephonic amusement with minors, they have found you activities rather 'revealing' (if you will pardon the pun). You may rest assured; Agents of the Internal Revenue Service will be in touch…. They may arrive at anytime between the hours of midnight and 4 AM (local). I urge you not to resist.

By the way… do you have a PERMIT for those tweezers?


Fraulein Frankenfeinstein

As proved by the
regime
administration of Bill Clinton, lying, whether real or imagined, is a well honed and desirable asset. We stand in awe, if not shocked awe, at the glorious, unparallelled exaggeration and falsification which flow with easy, from our dear leader and his leaderettes. Especially in the Barack Hussein
regi.
.. administation, do we not?!
These are pigs of a different color. They are:
Progressive In Government

!
And the only
PIG
's worth snuggling up with (
if for no other reason than to keep the IRS off your back!!
)

R.O.C.K. in the USSA

It all depends on what the meaning of the word "pig" is.

And what difference, at this point, does it make?


Sugar Daddy Bear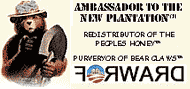 A pig by any other name would still be Hillary with lipstick on it.


Khruelchev

Comrades! The "Progressives In Government™" have a rich tradition of "Guided Truths"™ that only really have any accuracy as compared to an actual "Traditional™" truth when viewed through the beet-colored progressive lens of glorious situational truth that all true party members are required to use; and as generously provided for continuous media repetition (ad nauseum) by Glorious Leader™. That and a little vodka makes the medicine go down.


R.O.C.K. in the USSA

Comrade, seeing the world through beet colored glasses makes ALL the difference!
And I do believe that they're on sale through the end of the scandal at Jiffy-Lobo™!

Fraulein Frankenfeinstein

I am thinking this is a good look for the Frau?

R.O.C.K. in the USSA

As always, a fashion statement Fraulein!

And I admire how the beet glasses set off your delightful cleavages!


Captain Craptek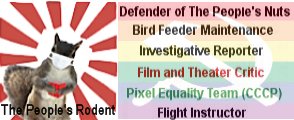 We are more equal
We get to sleep between sheets
Barry and Moochelle return to the farmhouse

Anyer Marx