Raznochinets Pewkov

Now, I know what many Comrades are thinking ... I misspelled Che-Mart.
But this time our southern leader, Comrade Hugo Chavez is announcing a new discount "socialist" store.
From the article
here:
Quote:
President Hugo Chavez on Tuesday announced a new chain of government-run, cut-rate retail stores that will sell everything from food to cars to clothing from places such as China, Argentina, and Bolivia.
"We're creating Comerso, meaning Socialist Corporation of Markets,"Chavez said at the opening of a "socialist" fast-food location for traditional Venezuelan arepas (cornbread).
"They'll see what's good. We'll show them what a real market is all about, not those speculative, money-grubbing markets, but a market for the people," said Chavez in his drive to change Venezuela from a market-based economy to a socialist one.
"We're going to challenge all that junk food that just fattens people up," he added referring to the arepa stand he opened to the public.
Chavez said the Comerso chain of stores will include "a network of subsidiaries" that will sell new vehicles directly imported from China and Argentina, "without capitalist intermediaries."
"We're going to defeat speculation. Private individuals in sales can still sell, but they'll have to compete with us and with a people who is now fully aware," Chavez said.
He said the new discount retail chain will also sell clothing and furnishings imported from Bolivia, Venezuela's closest leftist ally in the region.
The socialist retail outlets will serve the public alongside the Mercal supermarket chain, which sells subsidized food in Venezuela's working-class neighborhoods.
In his effort to break Venezuela's dependency on foreign goods, Chavez in May launched the Movilnet cellphone company that makes the "Vergatario," a locally made mobile that sells for 13.95 dollars but that few stores have in stock.
Glorious news Comrades, you can now support local socialist just a little easier.

Statist-in-Chief

Indeed, glorious news! Hopefully His O'liness will implement something similar here. I envy State made cornbread! Who would not want State cornbread?


Leninka

This is wonderful news! Good to see that now the only capitalists in the chain of trade will be the evil capitalist manufacturing companies that live outside of Venezuela. Now, if Comrade Chavez can only figure out how to make them socialist, too. Well, at least it's a good start.


Comrade Whoopie

Would it be permissible to shoplift at these government stores? I mean, it would save the gov. the cost of printing food stamps.

I bet they carry all the top selling brands too. "Tom's of Maine" toothpaste, "Good" canned mystery meat, "Tasty" bread and the famous "Gubbermint" cheese.


Opiate of the People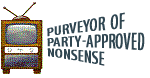 (sniff, sniff) Ah, this brings a tear to my eye as it takes me back to the grand old days of waiting on endless lines to get into the state run GUM department start in Moscow when the USSR was the world's model economy. I'd wait and I'd wait and I'd wait and then I'd wait some more and finally I would get to the front of the line and there would be nothing in the store but bare shelves. I'd turn angrily to Comrade Store Clerk and say, "Comrade, why is the store open, what are all these people waiting to buy????" And he would look at me out of his anti-freeze induced drunken stupor and say, "Shelves!" Ah, those were the days (sniff, sniff.)
My father-in-law told me a story of how he took a sightseeing trip to Moscow in the early 80s and went into a store wanting to buy a Russian big fur hat (but one without the ice axe embedded in it.) He waited and he waited and he waited and then he waited some more but the clerk would not take time out from her important conversation with her co-worker to serve a customer. Frustrated, he looked to the tour guide who shrugged and said, "If the store fires her, the state will just have to get her a job in another store."
Hey, Venezuela.... enjoy your Che-Mart! While you're standing around waiting, ask yourself how long Hugo has to wait in line in order to get HIS big fur hat.