Rock Tsar

Comrades!
It has been far too long since I have locked myself in my studio-bunker, attempting to create the People's Music ™. To be in the company of the Collective again makes me warm where my heart used to be.
But enough of that. I came here to report a MASTERPIECE of journalism, whose well-written, well-argued, and above all well-researched article in the campus newspaper where I am currently infiltrating shall surely put an end to that greatest Enemy of the Common Good ™ , Ron Paul!
Good reading comrades!
Oh, and make sure to post your comments, this young Prog must know the service he does for the Progressive World of Next Tuesday!

Opiate of the People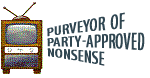 An excellent piece of agitprop from the young comrade. I have one teeny criticism - he writes that "the US has not fought a legal war in decades." That is wrong - THE US HAS NEVER FOUGHT A LEGAL WAR! IT IS ALWAYS THE AGGRESSOR! Outside of that, excellent.


R.O.C.K. in the USSA

Comrade Rock Tsar, I shall, in point of fact, play a welcoming round of feedback in my beet field for you upon my arrival home this evening! At a volume of 11, of course.

No one will hear it but the beets and my cat.

But that's perhaps as it should be.

Good to see you back in the Kollektive!!


Rock Tsar

Comrade R.O.C.K., that you can only hit volume 11 is disappointing. But that is because the 1% of successful musicians have taken that volume from you. We must begin Occupying more concerts to get you back to 12!

It still warms where my heart used to be, nonetheless.


Shovel 4 U
All of our apparatchiks serve us well, Comrades!