Fearless Leader
Barack Obama Thanks Obama-Boy for Crush on Obama
Straight here to the Cube I did rush
to spread the good news as I must:
Obama-Boy's made
a movie to say
on me what he has is a crush.
His movie he's posted to YouTube
to send me his fondest of yoo-hoos.
I'll be, for this backer,
more flexible after
November of Two-Oh-One-Two.
Obama Girl's crush on me was
exciting but rather bourgeois,
but adding Obama-Boy
allows us to now enjoy
ménage non à deux mais à trois
.
--Fearless Leader

General Confusion

The movie should have been named "Ugly Hooker", but it is from Fantasywood.

French is only half a word, fries is the rest.

Great graphics!!!


Pamalinsky

After expressing his jealousy of the first Lady, I love the part where he includes a dog, dressed in the American Flag no less, as part of his "seduction" of Dear Leader. We all know the first lady's distain of the flag, in spite of her resemblance to a dog. Brilliant move! No wonder he scored! Dear Leader knows how to make good use of his tools!


Opiate of the People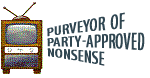 Yikes! This movie should be rated "Y", one step below "X" and also short for YIKES!