ThePeoplesComrade

Van Jones: "Right-Wing Forced Obama To Sit Eye To Eye With A Racist Police Officer" At 2009 Beer Summit…
Source
That is one view. The other might be 2008-2012 AN ENTIRE NATION SUFFERED AND ENDURED WHILE IMMATURE RACE HUSTLERS PARTIED AND BACK SLAPPED THE COUNTRY INTO DEBT AND OBSCURITY. Our uncomfortable police officer during the "summit" appears to not be enjoying his subservience to his superiors. Is he representative of a country fed up with race whining and victim encouraging?

Comrade Ogrrre
"Is he representative of a country fed up with race whining and victim encouraging?"
He might not be, but I am. I suppose I need to make a quick trip to Jiffy-Lobo.


Opiate of the People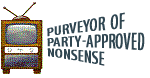 I percieve that the raaaacist police officer is trying to determine if the black guys got more beer than he did.


ThePeoplesComrade

The People feel that Ted Nugent is uttering divisive and unauthorized speech. " If the coyote's in your living room pissing on your couch, it's not the coyote's fault. It's your fault for not shooting him." Unless Mr. Nugent is inviting Barrack over for his favorite childhood dish of doggy hash, we find this speech unacceptable for non-black, non-clergy. The Secret Service has a lull in sexual activity between 1 PM and 4 PM on Thursday and will be looking into the matter.

ThePeoplesComrade

RACE HUSTLING - THE PEOPLE'S OBLIGATION
The liberal provocateur owes nearly $1 million to creditors and the federal government as a result of his failed bid for the 2004 Democratic presidential nomination.
His campaign's unpaid bills exceed $888,000, according to federal filings.
It is unclear why Sharpton has not paid his creditors. He does not lack for income.
Source
Race hustling is a public service and race hustlers should not be expected to pay debts when performing a race hustling public service. (Qualifications: non-white, cleric spewing division and victimization)
Ted Nugent's application has been rejected based on race, content and not having "Reverend" attached to his name.