Ivan the Stakhanovets

America's favorite mom: Furious mother smacks rioting son upside the head
Comrades, this is why MTE says "It Takes a Village" and we say Parenthood is evil.
During an afterschool field trip to study a lesson in civics, this poor youth was raising awareness of how black lives matter, and this womyn (who happens to share DNA) assaults him in front of his colleagues!
His self-esteem is forever damaged, and his street cred is now ZERO.
And yet, where is the outrage?

Ivan Betinov

A
ccording to Stacy Patton, a senior enterprise reporter for the Chronicle of Higher Education and adjunct professor at American University:



Quote:

Graham's message to America is: I will teach my black son not to resist white supremacy so he can live… While Graham did not literally lynch her son Michael, she metaphorically strung him up for the world to see — in hopes of keeping him alive.

Great Stalin's Ghost

Who does this woman, this MOM, think she is anyway? We know that it takes a village to raise a child. And the village says to give "those who wish to destroy, space to do that . . ." How dare she oppose the village!


Commissarka Pinkie

There's no such thing as black-on-black violence. That's nothing but a racist dog whistle to distract from the real issues of white-on-black violence and cops-on-black violence.

And it isn't child abuse. It's racist to even suggest that when everyone knows he's more likely to encounter abuse by the police and white people. Besides, to say he's a victim of child abuse is to say that he's, well, a child. And what do you call a child of his gender? Why, you call him a boy. And that's RACIST!

In fact, I think we should ban the word boy along with thug. They're both racist! From now on, they are the b-word or the t-word. Or maybe the th-word. Or we use asterisks, e.g. b*ys will be b*ys, and the Tea Party is made up of th*gs.


OksanaTheTerrible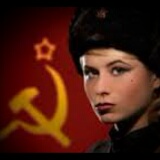 Pfft, where does this "parent" get off thinking she has this right? It's the governments job to raise that not properly. Parental Unit needs some reeducation and a collective snack to the dome. The Proles are getting uppity in Baltimorestan.


Kapitan Kangaroo Kourt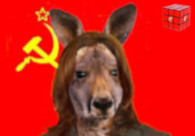 I think we should pay attention to the experts in these matters
:
"I think it sends a terrible message. The 'Mom of the Year' beats her child? I don't think so," said Kathleen Harter, executive director of the Consortium for Children's Services in Syracuse.

"Had she thrown herself into a burning building or thrown herself in front of police bullets and saved her son's life — maybe," Harter added. "But she's not 'Mom of the Year' because she kicked his a--."
There you have it, comrades. If you want to be a candidate (maybe) for "Parent of the Year™", throw yourself from a burning building in front of police (and only police) bullets. Nothing says "I care" like committing a brave act of suicide and leaving your children destitute and at the mercy of The State. This is what The Party™ strives to achieve.

Kapitan Kangaroo Kourt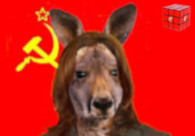 Comrades, I've noticed something that is, indeed, very disturbing. This could very well be a sexual assault in progress. What is wrong with the youth of today? On his mother?

Pamalinsky

Well, at least he didn't hit back! There's that. And his mother was forced to show her love in this manner.: having to smack her darling boy up the side his head. Awesome!