TheLCABroadside

[center]
[/center]
http://thelcabroadside.wordpress.com/

Commissar_Elliott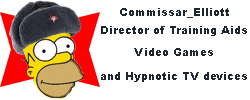 But I thought Michelle has them, after all, all good socialist men give their testicles to the whimin, this way, there is equality amongst the sexes. You have one with no sexual power, and one with both sides of sexual power, in effect, a neutralization.
(off)
Why are they on the bench near the playground? Do Hillary and Barack play on it after dinner (lunch for the city folk)? Do they go inside and watch the afternoon cartoons when they are done? What other childish like things could they possibly do? Was Hillary put as Sec. of State because a spoils system was reinstated?


TheLCABroadside

Do socialists give their balls away or do they do a "time-share" scenario where they get them one week out of the year? That way those who can not afford their own balls get a taste of what it's like to have some?

P.S. I'm sorry for saying "taste" and "balls" in the same sentence.


Red Square

Don't worry, comrade. We stopped paying attention long time ago.