TheFineReport.com


Pamalinsky

Come on, Boehner, listen to your wife! After all, "they all do it". You can still come out clean in the midst all this nasty stuff. The first guy to admit he actually has faults will be the winner!

BTW, do you know of anyone who is faultless? I know I don't and neither does anybody else!

Come clean! It will be your resurrection! You will be our hero! Do it! You will inspire all other nasty dudes to do the same, after they see the results of your "confession."

There is, of course, the possibility that you will be pilloried, but, that's the risk you must take. It won't last long, and others will follow in the path of your pilloryship. Be the first! That's what counts!

Good Luck!


Zordon
Rethuglikkkans and that Boner dude are always wrong - that's why I joined the Cube Party. I thought i might have been wrong once, turns out I was mistaken. 'Unmade' progs are forbidden to think hence it would be impossible and impractical for me to ever be in the wrong.

It's ok if you disagree with me, I can't force you to be korrekt. I will continue to walk this path, still waiting for progress to come my way! Oh and if you do disagree I have a direct line to Progs in High Places (PHP) and I've been advised to report your transgressions.

Marching to Next Tuesday™!


Captain Craptek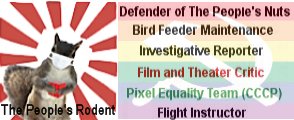 Remember C-SPAN blacking out coverage of Boehner's "Love In" celebration on the House floor?