Opiate of the People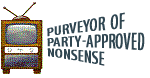 Fresh off
his successful bid for ketchup, pickle and progressive politician manufacturer Heinz
, multi-billionaire investor (but not a one-percenter!) Warren Buffet is reportedly eyeing an even larger US conglomerate as his next quarry - the US itself.
Buffett is rumored to be ready to offer approximately $7 trillion for those shares of the United States he does not already own. Sources say the offer will be an all cash deal.
The transaction will be structured as a modified leveraged buyout; Mr. Buffett will borrow the money to pay off the current owners and complete the transaction. Once the deal is consumated, Buffett will have the United States' wholly-owned Federal Reserve subsidiary (which he will acquire in the buyout) print up sufficient cash to pay off the loans and the country will be his.
Market observers are baffled as to why Buffett would want the United States, a debt-ridden, mismanaged, nearly bankrupt operation which has not turned a profit in years.
Buffett watchers and experts familiar with his operations are not sure, but speculate that he may integrate the best parts of the United States into his Berkshire Hathaway conglomerate and sell off the parts of the country he doesn't want piecemeal.
"Hey, the IRS division of the US Treasury is a money machine all by itself", noted one takeover specialist. "And the Federal Reserve subsidiary literally PRINTS money! Between those two pieces alone, he'll make a great return on his investment."
"I heard there's a lot of overseas buyers interested in acquiring the US Armed Forces. Even a country like Iran might be able to bid on a few drones", he related.
"What about assets like GM and the US's green energy investments?"
"Well, if he wasn't going to own the IRS, I would say they would make good tax write-offs. But since he will no longer need write-offs, look for them at the nearest junkyard."
We asked a Buffett insider: "Mr. Buffett's past pattern was to let the existing CEO continue to run the companies he acquired. Can we expect that current CEO Barack Obama will retain that job after the buyout is complete?
"You gotta be kidding", said the source. "Warren could afford to pal around with Obama when he didn't own the country. It was all for show. Once he takes over ownership,
his
money is on the line then. That's when it gets serious."

ThePeoplesComrade

Excuse me but I thought Buffett gave away all his money and we were donating to his impoverished children. Does this mean we can use our "Feed The Buffett Children" charity proceeds to finance our upcoming beet vodka party?


Anyer Marx

Thank Obama the graph shows me in Japanese territory. At least we'll have nukes.


Chairman Meow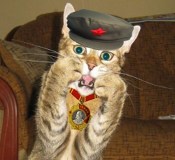 And it's a good thing the Germans get our southern border ...

Comrade Putout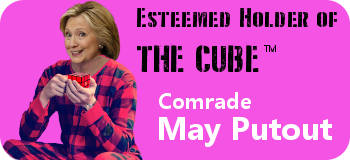 What a coincidence that Mr. Buffett's purchase of the Heinz corporation came up - now I have an excuse to brag about my kinfolk! My family does volunteer work for Heinz in conjunction with the Ronald McDonald House. Here we are collecting donations for a new RMH in my home town. That's my grand-daughter Luvstu - that's Swedish - and my grand-son Will. Look how big he is for six months! He loves french fries. Can you guess who my son is? BTW - ten seconds after this picture was snapped those damn penguins went ape-shit and killed their handler! OMG!! I will never forget this day.




R.O.C.K. in the USSA

Comrade Putout, what a delightful way for a family to spend time together! And while one must always be aware of the potential for penguin violence, nevertheless they always come in handy in a humanitarian philanthropic photo-op!