Kelly Ivanovna/келя ивановна
To be exact, such a thread was Commissarka Pinkie's idea, but I know you know that she speaks for all of you, and if you don't think so, you'd better duck now. Comrades, I fear we have all gotten so used to our Dear Leader being in place and preparing to become Benevolent Dictator of the USSA his Presidential re-election campaign that we have forgotten how important it is to hate our enemies. Hate the capitalists, those who create stinking wealth that we don't have immediate access to; hate the bourgeoisie who are so focused on "getting ahead" rather than sending all their money to us to redistribute properly; but most importantly,

HATE GEORGE W. BUSH

who still is responsible for everything bad that happens. Those who cried, "But Bush started this whole mess! Obama bears NO responsibility" all during the recent budget crisis have my great admiration....for awhile many of us got caught up in burning John Boehner in effigy. Surely the tearful Speaker is just a drop in the bucket of evilness.

On the other hand, we must remember that George W. Bush started the Iraq war, the Afghanistan war, the Patriot Act, 9-11, all terrorist attacks from the beginning of time, the Spanish Inquisition, global warming, and the entire "Jackass" movie franchise. So I think it behooves us to recite our credentials as good soldiers in the fight for Next Tuesday by telling each other exactly how much we hate George W. Bush.

Those of you who do not hate him enough would do well to pack a bag with warm clothing and wait at the door at midnight.

Last edited by
Red Square
on 7/31/2021, 8:51 pm, edited 2 times in total.
REASON: formatically challenged

Ivan the Stakhanovets

I cannot find the words to express such. My dangerously high blood pressure tends to flare up when I attempt to expound on the topic, and I'm more good to the Party alive than dead.


Grigori E.R.

I just put a fresh Nitro Patch on so I'm good to go:

With apologies to Herman Melville (Moby Dick)

All that most maddens and torments; all that stirs up the lees of things; all truth with malice in it; all that cracks the sinews and cakes the brain; all the subtle demonisms of life and thought; all evil, to the mad Monk Grigori, were visibly personified, and made practically assailable in George Bush. He piled upon the evil Bush the sum of all the general rage and hate felt by his whole race from Adam down:

"To the last I grapple with thee; from hell's heart I stab at thee; for hate's sake I spit my last breath at thee. Would that my chest were a mortar, that I may burst my heart's shell upon thee Bush."


Lenianna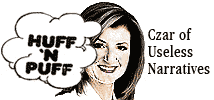 Dear Princess Nookie,

How could you forget to list Bush's worst crime of all? Bush made Obama spend all this money that is now being referred to as the "crippling debt"! Everyone knows the only way to end a recession is to spend vast amounts of borrowed money, and that socalled defense spending doesn't count and is a waste!! Now the uninformed, knuckle-dragging voters are confused and may deny Obama his rightful re-ascendency!! And it's ALL BUSH'S FAULT!!