Neotrotsky

Comrades!
I tell you - lies lies lies !
How do I know? Because Papa Obama has told me so !
CBO: Exploding debt under Obama policies
[indentr]

The Congressional Budget Office said Friday that President Barack Obama's tax and spending policies will yield $6.4 trillion in deficits over the next decade, more than double the shortfall in CBO's own fiscal baseline — even after taking credit for reduced war costs.
[/indentr]
These are just lies and posted in the POLITICO no less- for shame POLITICO. Papa Obama has assured us that his policies will cut the deficit.
Indeed, once we get done spending all these "investments" in our economy, it will , as in the words of that other great Progressive, Mao, "Let a hundred flowers blossom".
The Progressive "spring" will be upon us soon comrades. Our day in the sun will come.
Just be patient- time will prove us correct.

Krasnodar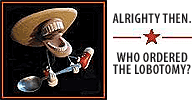 Our Federal deficit has already been cut in half by Dear Leader's magnificent policies for nearly two years now. It has been the overtly biased right-wing MSM that has covered Obama's fiscal achievements up, broadcasting instead stories of record - breaking debt and financial failures.


Neotrotsky

Agree comrade

The MSM has not been pulling their weight enough in the good Progressive fight

No the doubt the reason that newspapers are one of the most hurting
industries. People expect to hear the truth about Papa Obama and the Left in them


R.O.C.K. in the USSA

Comrades, as I mentioned on
another thread
, this confusion is merely temporary. Dear Leader is, even now, issuing $1 billion each to local communities who are forward-thinking and progressive enough to get with the program and save the planet for the children.
Once enough of this wealth gets spread around it will be obvious to everyone (except, no doubt, the reich wing teabagger Republicans - spit) that there is NOTHING to fiscally worry about. Dear Leader has everything under control, and once He is re-elected, Next Tuesday WILL be here!