Colonel 7.62

Comrade
Che Guevara
would NEVER behave in this fashion!
http://www.grimmy.com

Red Rooster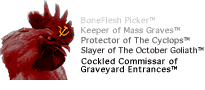 Speaking of 800 pound guerrilla's, has anyone seen my Che Guevara twinkie fryer? I know it's around the gulag here somewhere... I'm hongry!


Commissarka Pinkie

Does Michelle know about this?


Ivan Betinov

That's going to be really hard to fit on a T-shirt


Shovel 4 U
It gets worse. The kapitalist swine are now mocking the great revolutionary out in the open!
They have become unafraid - this can't be good.