Mon Tse-Tro

Hello my Comrades,

I do not believe that Chris Matthews has left the Apparatchiks Assembly, but he is showing signs of siding with with the horrific Tea Baggers.

I doubt that such a loyal lap dog of the 0ne would turn on us, but it looks like he has lost that tingling feeling.

I am sure that he is simply distraught from Brownstain winning Massachusett[e]s.


EMBEDDED VIDEO NO LONGER AVAILABLE

Does Comrade Chris look like he needs a little re-education?

-Mon Tse-Tro


Comrade Whoopie

Comrade Chrissy looked like he could use a good stiff dose of whatever Anita Dunn was on. I expect to start seeing him making odd faces, licking his lips and thrusting out his tongue any day now.


Blackmarket Citizen

operation code name: hidden tingle

notes: operative matthews is following standard 'victim' protocol. it is the correct stance to throw off the opposing forces, causing them to relax their assault. in our scurry to re-collect the collective, it is asked that all people mask their personal tingles until further notice. you can rest assured that operative matthews legs are still tingling, especially the little one.

reporting agent: blackmarket citizen - the people black op


Infidel Castrate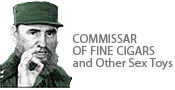 Mon Tse-Tro
Does Comrade Chris look like he needs a little re-education?

-Mon Tse-Tro
Yes, we must save our Comrade, and save him now! Looks like Faux news has been courting him to defect. I would slit my wrists if I saw him appear on Beck's show as a "yes man" to the Reich wing.

Opiate of the People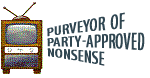 What is with PMSNBC showing this bad news to loyal Party members? In old Soviet days, state-run broadcasts would NEVER announce anything but good news to the proletariat (the Soviet people never heard a word about the Cuban Missile Crisis until it was over.) The workers need to be protected from these things until we have formulated the proper spin way to break it to them gently. Shame on you PMSNBC. And Matthews... teabagger!


Grigori E.R.

I agree with Opiate. We need to go "old school" with the Party. Block out any and all bad news and begin the show trials of those at fault. Heads need to roll here Comrades! I'd like to begin by Denouncing Comrade Marcia. Failure is not an option and she needs to be made an example of.

and Comrade Chrissy? The mobile Jiffy Lobo unit is on it's way. They'll have him back with the program in no time.


Fraulein Frankenfeinstein

Re-education?! Or the gulag! This is TOTALLY unaccepted for comradeSissy Chrissy. Has he been hang'n with the teabagging crowd? Listen to Beck or Limbaugh?! Obviously, he needs an enema of the brain to reinstate his tingle.


Mon Tse-Tro

Comrade Chris is starting to bite the hand that feeds him. Why is he asking about the defeat.

However, our Head Apparatchik of Disinformation, Howard (YAAAAAAAAHHHHHH!!!) Dean, is doing a fair job.

However, this may be all part of the plan of the 0ne. Maybe Comrade Chris is doing this to make a point that the people do not know what they want. As we all know the individual is a moron. The 0ne must be using our one of most esteemed Apparatchik Assembly member to show that the people are idiots and must be shown the true way.




Sea-Bass

"In short, in Chris Mathews we have an irresponsible, homophobic, racist, reactionary, ex-leg tingler, teabagging supporter of violence against woman and against politicians with whom he disagrees. "

Fraulein Frankenfeinstein

I think comrade Chris might still a loyal
brain-washed
follower of our leader as this new autobiography photo depicts. Rejoickies!