Captain Craptek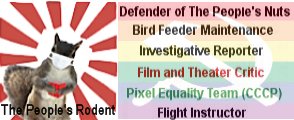 Comrades,
The following NY Times story reveals the effectiveness of our Alinsky Infiltration Method (AIM) in the ongoing Teabag wars. As we know, Comrade David Wildstein was tasked with an important assignment during his High School days. The assignment? Befriend the chubby Cristie and establish links that would ultimately lead to a position of power in his future administration.
Comrade Wildstein's plan was carefully developed in subsequent years. First, the MSM spent months elevating the hapless governor's presidential aspirations through glowing reports and stories of his uncanny ability to work across the isle in the deep blue state of New Jersey. Then, when his reputation as a man of compromise and unfailing honesty had reached its zenith, Comrade Wildstein struck.
Breaking News:
The NY Times tells all.
Christie = Bush!

Lev Termen
Captain Craptek
Christie = Bush!
But Comrade Captain Craptek, I am thinking that probably Gospozha Christie Brinkley has no Bush. Disproof by counterexample?

Navigator

How thrilling!
Journalism is now running on two of eight cylinders!
The Race to Bankruptcy continues for the NYT continues.


Captain Craptek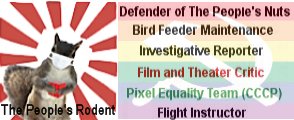 Comrades,
Rumors of a lingering romantic affair between David Wildstein and Chris Christie may be at the heart of the governor's recent troubles. As an unnamed source stated;
"He was like a Christie groupie," says the official, who asks not to be named. "He was like a teenager where the sun rises and sets on a rock band or something. He was admiring of the guy. To then be pushed to the side…"
Could revenge be the motive for Wildstein's bitter accusations? Are hurt feelings and a sense of betrayal at the core of this sensitive comrade's obvious emotional distress? Could an innocent high school romance ultimately lead to the worst traffic jam in New Jersey history?
See the full story HERE for further analysis

Red Walrus