Komrade Koz
Known right-wing propaganda machine CNN has reported today that someone named John Kerry had worse grades than Bush!  This is not correct.  We all know that Bush is dumber than the dirt that gets stuck to a gnat's shoe!!  It matters not that Bush had only one D, a 69, while Kerry had 4!

This goes to show that the Republicans will even make up people to try and prove that their beloved captialist leader is smarter than we all know he is.  We need to squash this obvious lie.  Non-person Kerry was probably spending most of his time redistributing his grad points to less intelligent students.

http://www.cnn.com/2005/POLITICS/06/07/ ... index.html

-Komissar Koz

Red Square

Competition is a non-word. It can only exist in such idioms as "Socialist competition" and "People's competition" as exemplified in this politically correct illustration I just did for the "People's competition" section.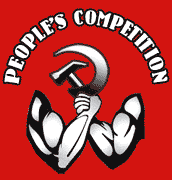 Komrade Koz
I am shamed.  I have failed to keep up with the party platform to the second.  I shall deprive myself of my daily rations of bread as punishment.


Premier Betty

I was going to post that article, but instead i did the one about the Motherland being ripe for revolution.