obamafu

Comrades!
Making things
black and white
always makes them
CLEAR
...
No changes in shape — just the light,
the moustache (he could grow it, right?).
Change the brightness, contrast —
and the ghost from the past
will be keeping us frightened all night...
To reproduce this transformation by yourself:
1. Download the official portrait of Bamster at
http://change.gov/page/-/officialportrait.jpg
2. Save the image and open it in Photoshop.
3. DO NOT CHANGE ANY PART OF THE PORTRAIT - that's the main point of this exercise.
4. Using Image-Mode-Grayscale,
convert the image to Grayscale.
5. Using Image-Adjustments-Brightness/Contrast,
adjust Brightness to (-36), and Contrast to (+96).
6. Add the moustache...
www.obamafu.com

Comrade Whoopie

Without a shadow of doubt, there are more similarities between their policies than not.


Shovel 4 U

TOTUS #1 (In Prog Heaven)

I sure do miss you Hitler er, I mean, Barry!


Commissar_Elliott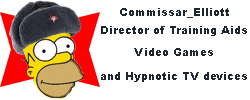 Does this mean it's Obamahitler now, as opposed to the Bushitler?