Hammer and Loupe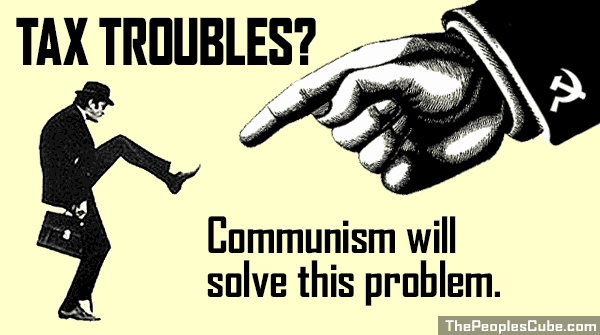 As you are well aware, funny walks are
taxed by the small racist town in Missouri
. You cannot take a deep breath of fresh air before getting taxed for disturbing the peace. These days the courts decide what the citizens of Ferguson can and cannot do.
The courts even got into fashion sending their police to give fines for wearing skirts too short or having a too tall of a top hat. You can barely grow your own mustache without some unknown fee placed upon the style of mustache you can have.
Eric Holder is investigating into.....
Wait, he is not?
Well, never mind. Communism will solve this problem anyway.
Forward!

Kelly Ivanovna/келя ивановна
Hammer and Loupe
As you are well aware, funny walks are taxed by the small racist town in Missouri.
...Well, never mind. Communism will solve this problem anyway.

Perhaps we are all turning back into Englishwomen. And men. Maybe just Englishwomen. The Brits know what's important, and whom to pay for it.
If you drive a car, I'll tax the street,
If you try to sit, I'll tax your seat.
If you get too cold I'll tax the heat,
If you take a walk, I'll tax your feet.


. . . Now my advice for those who die
Declare the pennies on your eyes
'Cause I'm the taxman, yeah, I'm the taxman
And you're working for no one but me.

-------George Harrison

Red Square

Now you're in trouble, buster! You picked the wrong town to do your funny walking!
Actually, if you set up your funny walking patrol next to a public bathroom, you may fill your town treasury in no time and have a surplus!

Yakov-Luvlas

A Tax? NYET! It is a JOY to GIVE to the Greatest Leader, the Unblemished Komrade Barak Hussein Obama! A Tax is a Burden! Do NOT compare the JOY it is to tgive to our Dear Leader! Viktory Komrade Obama!!
Ferguson is a mess. Period. Not sure what on this earth would help the situation there....