R.O.C.K. in the USSA

Dateline - Washington DC
Last night in the nation's capital, Comrade President Barackzebub Hussein Obama gave a rousing rendition of the annual State of Disunion Address to a joint Congress filled with worshiping admirers. In the photo above, the President calmly makes it plain that He is, in fact, God, as his throngs applaud.
~
As the President begins his speech, Comrade Valerie Jarett goes into a little jig in the audience, much to the surprise and approval of those near her.
First Lady Above the United States Moochelle Obama tries to appear interested, as her husband speaks to his masses of
subjects
citizens via live television on every possible TV channel, coast to coast.
During intermission, Chuckie and Johnny both call out the winning raffle number!
In the audience, reich wing teabagger racist and rock star Ted Nugent looks on.
All in all, a splendid time was had by all, as Dear Leader enthusiastically, but firmly - let me be clear - explained how more government, more taxes, and more spending will solve every problem known to man (and womyn) during his second term, if the Rethugglikkkans will just get out of the way.

Shovel 4 U
As you can see, fun was had by all the hardworking Inner Party members as they basked in the glow of the
Word ™
,
(pbuh)
but I did hear that someone had the audacity to complain the menu was the same as last time even as almost all asked for second & even third helpings.

Anyer Marx

And upon closer inspection ...


Opiate of the People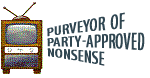 We have TOO many TV channels in this progressive people's utopia. Last night, I managed to tune to 7 or 8 which were NOT carrying Dear Leader's speech and I MISSED the whole four hours! Some kind of law should be passed or something.

Tne next time he speaks on TV, I will be closely monitoring TV channels to see if this happens again.


Comrade Molotov
The Statism of the Collective is a glorious success. Millions more proletariat on benevolent government assistance! Dear Leader is making sure everyone is entitled to a fair share of other peoples labor.

The suspicious, thought criminals, dissidents, and enemies of the people will be severly dealt with. Free trips to the Gulag will be provided at no cost.

Non-Workers of the World Unite! Demand more government regulation, free bread, free I-Pads and other free stuff.


Ivan Betinov

Y'know, anything Molotov throws out just burns my ass.


Captain Craptek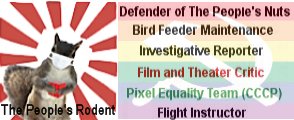 I have had a little "talk" with my local cable supplier. I assure you, Comrade Opiate, at least in my area of the USSA next year's progressive distopia speech will be carried on ALL channels thanks to the "Emergency Override" button! (Peace Be With You)


Gulag 4 Alfred


Captain Craptek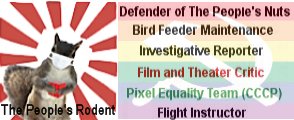 A most equal response, Comrade Alfred! Saves the State trouble and expense.