Boris Badanoff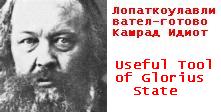 Colonel 7.62

Indeed! Business should be done based on diversity qualification, not on other discriminatory factors, like "liquidity" or "competitiveness" or "quality".


Comrade Whoopie

Totalitarian tits for next Tuesday!


Colonel 7.62

The Glorious World of next boobies is just around the corner!


Fraulein Frankenfeinstein

DO YOU MEN EVER DISCUSS ANYTHING BESIDES WOMANLY ENDOWMENTS??!

ah humm, the poor, persecuted Ms. Waters is of course on solid, watery ground. She is being harangued for being black no doubt. If white people can cheat and steal, then so should black women. That is only fair and equal. Besides, I hear the evidence was so well hidden they will never prove anything.


Colonel 7.62

We could discuss Whoopie's man boobs if you wish to be equal Comrade Pulloskies.


Comrade Whoopie

Those are pects Col.

And you Frau (and Mrs. Al too), always with the goat gonads. You know such talk only gets Putout all worked up. And your girlish giggling about this Misha person's endowments. I don't even believe this Misha exists.

You know how sensitive the Col. is about his shortcomings. He probably cries himself to sleep every night (or at least he should).


Colonel 7.62

Shortcomings? Hah! You know the real reason I became Commissar of Time? Because a mere 24 hours wasn't enough to satisfy the desires of the countless numbers of attractive female comrades throwing themselves at me. The only shortcoming I have is that even with complete control over space and time, I still have to turn away women.