F.A.R.C.-EP

Comrades, while reading the comments from the "Soros donates for weed" article (
http://latimesblogs.latimes.com/lanow/2010/10/multibillionaire-investor-george-soros-backs-proposition-19.html
), I found this wonderful morsel of progressive TRUTH!
Quote:
Everyone who wanted progress MUST go out and vote against the G NO P! The Republicans are accepting $75 million from unknown sources who refuse to reveal themselves. Call it legalized(by the 5 conservative members of the Supreme Court) bribery. But it is clear that the Republican agenda is simply to gain power at the expense of the middle class. It was Bush and deregulation of the Banks, mortgage companies, and Wall Street that caused this economic mess. Not even Iron Man could repair it with a snap of the fingers. The Party of NO has sabotaged efforts to improve it just to keep things bad so they could manipulate anger into power. You MUST defeat this cynical, money accepting party from giving back to their corporate sponsors their soul for $$$$ (75 million worth). DO NOT SIT THIS ONE OUT. If you do, EVIL and GREED and EXTREMISTS will prevail! VOTE! Damn it, YOU MUST VOTE!

(COPY AND SPREAD THIS IF YOU AGREE…WHEREVER YOU FEEL IT WILL BE READ AND RECEIVED.)
Posted by: Gary Nelson | October 25, 2010 at 10:21 PM

"G
NO
P" LOL...> Comrade Gary Nelson is very sincere. While the "Iron Man" line made little sense, I especially loved how he hated on the Bush in his rant. The Bush is the cause of every calamity past and present. This however, is my favorite line....
Quote:
DO NOT SIT THIS ONE OUT. If you do, EVIL and GREED and EXTREMISTS will prevail! VOTE! Damn it, YOU MUST VOTE!

Won't we all listen to comrade Gary, copy and spread his message if you agree; and VOTE!.......progressive of course.

Shovel 4 U

General Confusion

Comades,

Look at that benign face, how was this gentle giant able to garner so much power and he is only 29! [excuse me while I am losing some cookies]

The image above is not korrect! He consider himself so far above the King of Hegypt.

He is a power unto himself and only obeys laws when he is the one to make the law.

That means he is one of US.


Krasnodar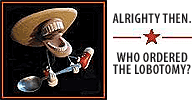 Soros looks like someone you'd find just one cell over from Hannibal Lecter.

And he looks somewhere between worried and desperate.

" Mommy...make him go away !"


Commissarka Pinkie

I notice some of you are newbies, and I hereby deign to finally notice you and actually say something to you.
This might be a good opportunity to point out that here at the Cube, we actually have a term for this Copy & Paste Progressive Truth stuff, and it's known as Mimeswipe™ , named in honor of the Cube's greatest troll (and my most beloved muse), The Mime™ .
Mimeswiping is the ancient, timeless, Progressive art of copying and pasting a specific Prog article in as many Prog sites as possible, so as to create the appearance of consensus, popularity, legitimacy, and Party unity. It also saves time, carpal tunnel, and precious brain cells having to come up with something original to say, which in turn goes a long way toward the prevention of ThoughtCrime.
The Mime™ was a master of what we call the Mimeswipe™ , which is why we honor this phenomenon with his name. He had a website with hundreds of pages and thousands of articles, very few if any of which were actually authored by him.
In fact, most of his original writing, such as it was, consisted mainly of berating the trolls (read, Cubists) who provided most of the traffic at his site, next to the Viagra vendors and Penile-enlargement peddlers who made up his membership forum.
Funny, he always said he had better things to do with his time than to deal with what he called our lack of civil discourse and inability to debate the issues--yet somehow, he always had the time to do just that. In fact, to a great degree, his rebukes and reprimands and reproofs tended to be worded pretty much the same each time. It's as if he kept them in a separate file, only to click and copy and paste--
Mimeswipe
if you will--as needed.
Alas, earlier this year he assumed room temperature. We at the Cube pride ourselves on keeping his memory alive.
Now, any questions, comrades? Anything you'd like to ask?
Anything?
Anything at all?
Oh, and here is a photo of Mikael Rudolph, aka The Mime:

Krasnodar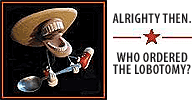 I have a question, Commissarka Pinkie:

What is capitol of Louisiana ?


Commissarka Pinkie

That reminds me of a trick question, though it's better told than written: "New Orlins or New Orleeeens, how do you pronounce the capital of Louisiana?"

You should try it on Joe "Stand Up Chuck" Biden sometime. I'll wager he wouldn't surprise any of us by proudly proclaiming, "Shreveport!"


Comrade Whoopie

Is reminding me of joke (shush!) anyway a tourist in Hawaii sees an old Jewish man on the beach and asks him a question "Excuse me sir, is the name of the Island pronounced Ha-why-ee or Hah-vah-ee?"

The old man replies "Hah-vah-ee."

The tourist thanks him and the old man says "You're Velcome."

(laughter is mandatory!)


RiechWing Dr. NOski

Ah YES-S-S-S, the Great Puppet Master of Fearless Leader ...dance Barry dance ...spend Barry spend ...bow Barry bow! The Great and Powerful SOR-OZ, the man-ski behind Irony Curtain has spoken.

DAMN IT, You Must VOTE

! By Lenin I shall vote. Being the EVIL, GREEDY, EXTREMIST that I am (for Common Good of Course) and I will make korrect choice (the "Reich" choice). I choose all things Democratic ...is so much easier than working. Obamessiah has saved me from the evils of Kapitalist system, He redistribute-th my wealth and Leadeth me in the path of Socialism for His Names Sake. Yea I shall dwell in the House of Emperor Soros and Barry Almighty forever. Amen.

I do have question though, who is this middle class the Emperor is referring to? There is only useful idiot proles and Party Elitists, could it be that proles are the "middle class" of which He refers. That would mean Evil Reich wing G nO P could gain control, economy would get better, proles would be forced into produktive kapitalist jobs and would not be on most equal public dole ...Lenin Forbid it. What MOONBAT would want that? I denounce the evil G nO P.

Krasnodar have you not heard the Emperor ate Hannibal Lecter just last week and I overheard Him say that you look delicious or was it He wished to invite you to dinner, personally I wouldn't go if I were you.

Comrades,

VOTE for the CHANGE DAMN IT

!

Every PARTY has a POOPER and thats why they invited ME...
Dr. NOski
REASON: Font is way to large. If the good comrade doctor is going blind he should ask Obama for new spectacles. As for new spectacles we'll all be getting some soon. LSD.

Laika the Space Dog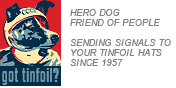 Comrade Doctor NOski now has a more equal font. No need to thank me comrades, it's just duty calling and the Party™ has been served.

Pinkie, I'm weeping, yes weeping, thinking of the Mime. If only he lived long enough to have witnessed WikiLeaks and the progress it's bringing Afghan women.