Vladimir_Scratchanitch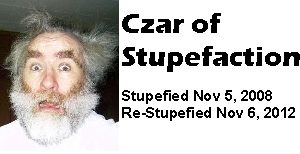 COMRADES! I want to alert you to this gross misuse of the word "progress"-
AAN: Laquinimod Cuts Relapses,

Progression

in MS
By John Gever, Senior Editor, MedPage Today
Published: April 11, 2011
HONOLULU -- The investigational drug laquinimod, in development for relapsing-remitting multiple sclerosis (MS), reduced the relapse rate as well as
disease progression
in a placebo-controlled phase III trial, according to data released here.
Relapses were 23% less common with the drug relative to placebo, and
progression of disability
was cut 36%, according to a late-breaking abstract slated for presentation on Friday at the American Academy of Neurology (AAN) meeting, by Giancarlo Comi, MD, of the University Vita-Salute San Raffaele in Milan, Italy.
A securities firm broke the embargo on the abstract, AAN staff said, forcing them to allow other media to report the data.
Besides
slowing progression and relapses
, laquinimod treatment in the two-year, 1,106-patient ALLEGRO study reduced the number of new T2 and cumulative gadolinium-enhancing lesions on MRI scans, Comi and colleagues indicated.
In addition,
progression of brain atrophy
was reduced 32.8%.
FULL STORY
This use of the word "progress" MUST STOP NOW! It sounds like a deadly disease, not the Glorious Coming World of Next Tuesday™

ThePeoplesComrade

"Progressive disease" is an unfortunate and unapproved expression.