Panem Et Circenses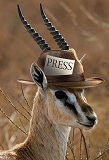 I stumbled across this article "
With Scant Jobs, Grads Make Their Own
" while looking for a PETA-approved egg nog recipe.
These people must be stopped! If the unemployed start creating their own jobs, who knows what could happen next? People taking responsibility for themselves in other ways, too? This must be stopped immediately, by any means possible.

Leninka

Don't worry comrade. Dear Leader and others are taking care of this by forcing all employees to join unions. Well, at least it's a start. It won't be long before all employers and just plain old selfish self employed people are forced into joining some kind of union or another. You can bet on it if Dear Leader has his way.