Comrade Vlad Linen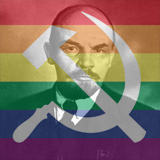 Comrades,
First, thanks for the warm welcome to this glorious gulag a few threads back. No, I was not taken away to another glorious gulag; I have been toiling with the other glorious proles in the fields, being very busy.
But dear comrades, today I read that our Dear Leader had his feelings hurt by John Conyers from that great socialist province of Michigan. Dear Leader personally called Conyers and asked that he stop demeaning him. Comrade Conyers tried to explain that disagreement with Dear Leader's policies is not personal. Doesn't Comrade Conyers realize that criticism of Dear Leader is wrong? Nobody is to criticize our Dear Leader. There is no distinction between Dear Leader's policies and Dear Leader as our great and glorious master who knows what is best for us. For shame on Comrade Conyers. Here in Obamaland, we are not like those fascist, evil, racist, unenlightened, capitalist nations where criticism of the government is tolerated. We are a glorious socialist, Obamunist utopia where criticism of The One[sup]TM[/sup] is prohibited. This is as it should be because Chairman Dear Leader is the most intelligent person ever to exist and he has
his
our best interests at heart. And on the
frequent
rare chance when he does not know what to do, he consults his glorious People's Teleprompter[sup]TM[/sup].
Perhaps Comrade Conyers needs to spend time in a gulag, surrounded by pictures of The One[sup]TM[/sup] and be forced to bow before them each time he passes? He seriously needs to some re-education to KORREKT liberal thinking. (Yes, even liberal Conyers.)
http://thehill.com/homenews/administration/71075-conyers-obama-told-me-to-stop-demeaning-him

Leninka

Thank goodness Dear Leader wasn't demeaned by a fellow white person of our great, glorious and progressive party. This would have been so much worse. White comrades must always walk three steps behind Dear Leader and always live in fear of offending him, and I just don't know what Dear Leader would do, if he could not rely strongly on white guilt to keep white party members in line. But as for a fellow comrade of color, this is to be expected. However, I DENOUNCE Comrade Conyers for daring to criticize Dear Leader. It's such an embarrassment.