Commissar_Elliott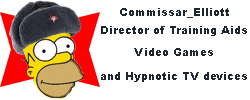 Greetings my fellow comrades,
I know it's been a while since I've been in the presence of folks of a collectivist mindset. I suppose I went on a hiatus because I somehow wandered into a dark forest. Fear not, it was just dark, nothing more.
But that's not the story I'm telling here. What I want to tell is this: as I was looking though the many stupid things people post on Facedbook, I happened to stumble upon this little picture. Enjoy!
(In the name of decency, I'll black his face out.)

Comrade Loaf
So, did he stop smoking?
Occupy needs some strong communism!
Occupy does the work of Karl Marx.
Journalism is Occupied.
Education is Occupied to make it stick.
Now Ocuppy makes villains of the wealthy 1% the same as did Karl Marx, Joe Stalin the landed Ukrainians, Hitler the Jews and for the same reason, Mr Robin Hood!
The madness returns! HooRay!!