Comrade Vlad Linen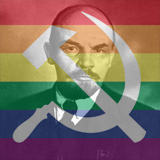 Comrades, if Captain Craptek (aka "Wally") comes to visit and you're serving Chinese, do NOT, I repeat, do NOT try to read the fortune in his cookie! The Captain evidently doesn't appreciate people messing with his food.



Looking at the fortune, we see Captain Craptek's loyalty to our glorious cause. The message is kkkapitalist! It is anti-bureaucracy! It is anti-our party! Captain bravely tried to hide it and perhaps even planned to eat it like a good spy. But alas his host managed to get the message and read it.

Hey, is that why the Captain is not here? Has he been sent to a harsh gulag (far harsher than this one) in Siberia for failing his mission?


Lev Termen
"Hey, Wally? Wally? Can I have your fortune cookie?"

"Shut up, Beav."