Commodore Snoogie Woogums
Comrades!
Pouring through Palin's emails was not a wasted effort. We have hit pay dirt.
Sarah Palin had received an email from one Mr. Burkfassa, a reputable bank officer of the Nigerian Commerce Bank. Mr. Burkfassa found himself in the unfortunate position of discovering a 15 million dollar deposit in his bank that had been made by one Mr. Flueger, who recently died in a plane crash while surveying oil properties from the air in Nigeria. Mr. Flueger had no heirs and Mr. Burkfassa did not want his bank to make a 15 million dollar windfall. He instead with his humanitarian heart, wanted to money to go to the local orphanage. He graciously sought Sarah Palin's assistance to help him with his idea of having her claim to be the heir to the funds. He offered to do all the paperwork and in return was willing to let her have 15 percent of the money for her trouble.
Sarah Palin refused to answer! How many starving orphans could have had life a little better if she would have just said yes? It is obvious Sarah Palin hates people from Nigeria Africa and they aren't even worth the decency to respond to when their email's show up in her inbox.

Kool-Aid_Man

A heartless governor wouldn't respond to a reputable Nigerian Businessman's plea for help in securing $15M dollars for an orphanage while keeping 15% as a "service fee"? A win-win situation obviously bypassed on the basis of unadulterated RACISM and loathing for Africans. This horrible woman should stand before the International Court for crimes against humanity!


Sugar Daddy Bear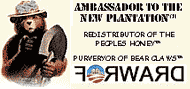 This could very well be the incriminating email we were looking for! It's about time we found
something
that will finally take her down!
BTW, has anyone sifted through those East Anglia emails yet? Maybe we can find more Impalin' dirt about how she's a global warming denier.

Obamugabe
Comrade Snookums!
Please forward that email immediately to my personal account:
[email protected]
.
I will make sure those Poor Children get their dues!
(Orphans make excellent soldiers: They eat almost nothing and nobody misses them!)
Amandla!
Obamugabe.

General Confusion

Comrades,

The true scandal here is undetected, instead of considering these pleas for help on their own merits, she probably throws them all away as junk mail!
This could easily be her undoing! As long as she is undone in a public place. Reporters may even drop their Weiner when they hear about this.


ThePeoplesComrade

And such a tragedy it was. The money was all ready to deliver. A simple response was all that was needed. Terribly heartless and calloused of the Governor.

Comrade Whoopie

I know Mr. Burkfassa personally and I can vouch for his character. It's safe to say I never met a bigger character.

He just sold the Collective one million US dollars that he cleverly dyed black to smuggle out of the country and our handling fee was a mere $10,000 plus $5,000 for the chemical that washes the dye off. I can't wait to start washing our loot.