Raznochinets Pewkov

Glorious news coming in Comrades ...
It appears the World of Next Tuesday is a day closer.
News from
Wall Street Journal
Quote:
Millionaires Go Missing



Here's a two-minute drill in soak-the-rich progressive economics:

Maryland couldn't balance its budget last year, so the state tried to close the shortfall by fleecing the wealthy allowing the wealthy to contribute more. Politicians in Annapolis created a millionaire tax bracket, raising the top marginal income-tax rate to 6.25%. And because cities such as Baltimore and Bethesda also impose income taxes, the state-local tax rate can go as high as 9.45%. Governor Martin O'Malley, a dedicated class warrior, declared that these richest 0.3% of filers were "willing and able topay their fair share." The Baltimore Sun predicted the rich would "grin and bear it."

One year later, nobody's grinning. One-third of the millionaires have disappeared from Maryland tax rolls One third of the previous millionares have become more equal to the rest of us. In 2008 roughly 3,000 million-dollar income tax returns were filed by the end of April. This year there were 2,000, which the state comptroller's office concedes is a "substantial decline." On those missing returns, the government collects 6.25% of nothing. Instead of the state coffers gaining the extra $106 million the politicians predicted, millionaires paid $100million less in taxes than they did last year -- even at higher rates.

There you have it Comrades, equality in action. Now there are 1000 less capitalist pigs running around, now we just need to get them into the re-education camps before they try anything capitalistic again.

Colonel 7.62

Perhaps they simply moved away from the People's Republik of Maryland. Maybe even having thought crimes about John Galt.


Leninka

The flow of these selfish millionaires must be stopped. We must build some kind of Berlin Wall around the People's State of Maryland.
See my earlier post on this most urgent matter
HERE

ThePeoplesComrade

This is an outrage. Atlas is not Complying! Something must be done and done now. There is only so much money and we can not allow these lackies to abscond with our share. It should be obvious that wealth was not
confiscated
contributed quickly enough. Taxes must be increased exponentially and immediately ... for the good of the people. The problem is not that taxes were raised but they were not raised soon enough. This is Bush's fault with his stupid tax cut. True, he spent like a drunken sailor (which was good) but his obstinate refusal to raise taxes on the rich gave people a false security that they could and should keep their excessive earnings. Now this is what we are stuck with. Like spoiled children these bourgeois capitalists are picking up their toys and going home. Enough, I say. Throw them in the gulag, truck them to the camps for re-education. The people have been too patient for too long. Revolution is boiling in our blood and they have only themselves to blame.
[center]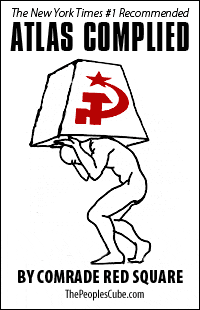 [/center]
But not all is lost. Comrade Sonia Sodomy-major will soon be a Supreme Court Justice and these sniveling spoilsports will get what's coming to them. Look how she is alreay beloved by our glorious leader.
[center]
[/center]

Commissar_Elliott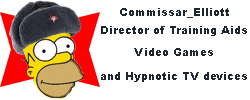 Colonel 7.62
Perhaps they simply moved away from the People's Republik of Maryland. Maybe even having thought crimes about John Galt.
You must not have gotten the secret newsletter Comrade Colonel 7.62. It's not of Party security, so I can discuss this.
The millionaires didn't move, the Governer, as a champion of the oppressed classes, took all of these WealthSpread Potentials and smoked them with his own personal firing squad. After that he said, "Go, take what you need, and what is left, will be distributed to those who don't have."
I think I actually smiled that day.

Comrade Joe

How many of those selfish kkkapitalist pigs are left in the People's Republic of Kalifornia?


Comrade Whoopie

Actually comrades, the individuals themselves are still there, they just don't qualify as millionaires anymore.

There are 4 "M's" of wealth. Modest, moderate, major and millionaire.

Someone with a networth of $50K to 100K is said to be modestly wealthy. $100K to 250K and you are moderately wealthy. Over $250K and you have major wealth. When you break the $1 million barrier you are a millionaire.

These poor folks simply backslid in networth to perhaps $900K.