Statist-in-Chief

Comrades!
This is glorious news for our collectivist movement!
Since the ratification of the Lisbon Treaty
, the European Union will become final. One giant-happy-collective
-oppressive-
Superstate in the name of The Common Good™! Of course, the goal of this Superstate says it will take care of "human rights" and democracy! Yes, we need more democracy; and we do not need republics, for republics are selfish and arrogant individualist societies -- will not be tolerated in our movement.
The new President immediately calls for Europe-wide taxes and elimination of national flags and anthems
! Yes! This is great news! Unity in one! Everyone a collective! The rest of the world can learn from our fellow collectivists in Europe! Perhaps the USA, Canada, and Mexico will see how collectivism is
oppressing, destroying cultures, and national sovereignty
creating unison, and The Common Good™ is not that bad as capitalist propaganda says it is. Therefore, we can move forward with the
North American Union
(see
Security and Prosperity Partnership
).
This is good news for us, Comrades. Our movement is becoming a reality. Uniting nations around the world in Unions while
destroying languages, cultures, borders, and national sovereignty
creating peace, freedom, human rights, and democracy! Unite!

Gulag Guyinski
Glorious EU first order was to Italy to remove crucifixes from classrooms. Italy responded with vulgar up yours salute.


Statist-in-Chief

Comrade Guyinski,
The European Court of Human Rights ruled in favor of our movement
. Indeed, you are right, the Italian counter-revolutionaries told the State to screw off, however, the counter-revolutionaries are appealing the decision by our fellow collectivists of the ECoHR. We shall wait and see if our movement continues to prevail in this case...

Statist-in-Chief

I denounce Nigel Farage! He is a British Member of Parliament, blasting the new European Union government and constitution, and then is criticized by the EU President for speaking harshly, as he should. He spews lies and propaganda against our collectivist allies in Europe. He trashes the super-state, communism, and promotes capitalism! See for yourself the death of national sovereignty and the creation ofa super-state in which leaders are appointed, not elected.




Red Square

How many Star Trek reruns must we show them before these idiots get it through their thick skulls that the unification of Europe is the first and necessary step towards the creation of the United Federation of Planets?

Without a functioning EU in the beginning of the 21st century the world's history will be altered and we will never be able to reach peace with Romulans! The earth may face an imminent destruction and it will all be their fault.

That's it. Stop this planet, I'm getting off!


Red Rooster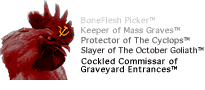 Comrades,

A Pole and A Hungarian leading the way!?! Is there Frenchman among the new oligarchy giving us marching orders as well!?! I want to reach Peace with Romulans dammit!

Beam me up Scotty!!!!