R.O.C.K. in the USSA
-----------------------------------------------------------------------------------------
Is there NOTHING these "people" won't stoop to???
Raum Emmanual Goldstein
People of FAITH might view that as a sign... The Emporer Has No Birth Certificate...

Apparatchik Unkulturny

Was it that old imperialist thing with the eagle and all those other anti-peace, anti-justice symbols? If so, then let the
dirty little nothings
proles
crawl out of their gutters
find and retrieve it.
Now of course if it were Dear Leader's Personal Icon:
then every effort should be made to recover it, even from the cold-dead hands of Revanchist Rethuglicans!
Send out the Dept. Of Education SWAT Team! Send out Joe Biden! Send out Anthony Weiner Speaker Pelosi! Send out such Hollywood motion picture stars as are available to plead on television for its return!

Sugar Daddy Bear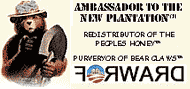 Comrade Unkulturny,

It seems that you have found the missing presidential seal! Exxxcellent!

It's good that we still have our Hope™ and Change®.


darski

Ok, Ok, I'm off to find platform 4 at the train station and I have my shovel ready to go. but I am laughing my head off all the way to the train.

We pathetic little proles like to see everyone brought down a peg or two. Even dear leader. He has cost us our MTE so there :P