Komissar al-Blogunov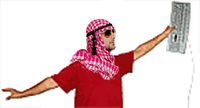 Criminal!
Since the Obama administration has declared infallibly that
hate crimes legislation must be pursued more vigorously
, it's time we exposed Francis Scott Key for the criminal he was. Key was not only a thought criminal prone to patriotic gushings about the most evil nation ever brought forth on this planet, but he added to his shame the everlasting guilt of being a religious criminal as well.
First, recall that the events referred to in our national anthem take place after progressive British troops had raised public awareness of President Madison's harsh treatment of the homeless by burning down the White House. Later, as the British agents of Hope moved to bring Change to Baltimore, the bombardment of Fort McHenry began on September 13, 1814, so the delayed ground attack on the fort might be resumed. On the morning of September 14, the huge US flag, a budding symbol of international oppression, was still flying defiantly over Fort McHenry meaning the American hegemonists who had stolen the fort from Native Americans had not surrendered, the British assault on Baltimore had failed, the efforts of the British to bring even more progress had collapsed, and the world was worse off than ever. And yet Key gloats as if something good or even heroic had happened! Let this abomination speak for itself…
O say, can you see, by the dawn's early light,
What so proudly we hail'd at the twilight's last gleaming?
Whose broad stripes and bright stars, thro' the perilous fight,
O'er the ramparts we watch'd, were so gallantly streaming?
And the rockets' red glare, the bombs bursting in air,
Gave proof thro' the night that our flag was still there.
O say, does that star-spangled banner yet wave
O'er the land of the free and the home of the brave?

On the shore dimly seen thro' the mists of the deep,
Where the foe's haughty host in dread silence reposes,
What is that which the breeze, o'er the towering steep,
As it fitfully blows, half conceals, half discloses?
Now it catches the gleam of the morning's first beam,
In full glory reflected, now shines on the stream:
'Tis the star-spangled banner: O, long may it wave
O'er the land of the free and the home of the brave!

And where is that band who so vauntingly swore
That the havoc of war and the battle's confusion,
A home and a country should leave us no more?
Their blood has wash'd out their foul footsteps' pollution.
No refuge could save the hireling and slave
From the terror of flight or the gloom of the grave:
And the star-spangled banner in triumph doth wave
O'er the land of the free and the home of the brave.

O thus be it ever when free-men shall stand
Between their lov'd home and the war's desolation;
Blest with vict'ry and peace, may the heav'n-rescued land
Praise the Pow'r that hath made and preserv'd us a nation!
Then conquer we must, when our cause it is just,
And this be our motto: "In God is our trust!"
And the star-spangled banner in triumph shall wave
O'er the land of the free and the home of the brave!
In addition to being White, Key even wrote hymns of praise to God and not to Obama. No greater self-condemning evidence is needed than what follows here. Let facts be submitted to a candid and progressive world…
Lord with Glowing Heart I'd Praise Thee
Lord, with glowing heart I'd praise Thee,
For the bliss Thy love bestows,
For the pardoning grace that saves me,
And the peace that from it flows:
Help, O God, my weak endeavor;
This dull soul to rapture raise:
Thou must light the flame, or never
Can my love be warmed to praise.

Praise, my soul, the God that sought thee,
Wretched wanderer, far astray;
Found thee lost, and kindly brought thee
From the paths of death away;
Praise, with love's devoutest feeling,
Him Who saw thy guilt-born fear,
And the light of hope revealing,
Bade the blood-stained cross appear.

Praise thy Savior God that drew thee
To that cross, new life to give,
Held a blood sealed pardon to thee,
Bade thee look to Him and live.
Praise the grace whose threats alarmed thee,
Roused thee from thy fatal ease;
Praise the grace whose promise warmed thee,
Praise the grace that whispered peace.

Lord, this bosom's ardent feeling
Vainly would my lips express.
Low before Thy footstool kneeling,
Deign Thy suppliant's prayer to bless:
Let Thy grace, my soul's chief treasure,
Love's pure flame within me raise;
And, since words can never measure,
Let my life show forth Thy praise.
Gender neutrals of the Collective, what further need have we of evidence!? The least we can do to atone for our crimes against the world is to replace our national anthem with one that snivels, begs, and pleads for forgiveness from humanity, speaks of the Children™, and offers affirmation that Yes, We Can!

Grigori E.R.

Komissar Blogunov

As a lifetime and former resident of the great progressive State of Maryland, I applaud you. It's about time someone brought this criminal in to the light.

Growing up in Baltimore, we were constantly reminded of this man and his deeds. We were even forced to take class trips to Fort McHenry. There's even a bridge named in his honor (the Key Bridge).

The time for truth is at hand and atonement must surely follow.


DDR Kamerad

This is most disturbing, and a trend I think you will find even beyond the borders of your Amerikan Kollektives...

For, Lo, and behold, Martin Luther, too, is guilty of honoring some deity besides His O'liness!

Ein' feste Burg ist unser Gott,
Ein gute Wehr und Waffen;
Er hilft uns frei aus aller Not,
Die uns jetzt hat betroffen.
Der alt' böse Feind,
Mit Ernst er's jetzt meint,
Gross' Macht und viel List
Sein' grausam' Ruestung ist,
Auf Erd' ist nicht seingleichen.

So far, so good, referring to The Big O[sup]tm[/sup]'s ability to help us out of "Not" (=need=poverty--and for frei, too!). And "Feind" (enemy) obviously refers to the rethuglicans and other conservative elements. And "Ruestung" (weaponry) referring to the military-industrial complex that is their lapdog.

But, once he has us sucked in with Party-approved wording, he slaps us with all sorts of ideological error:

Mit unsrer Macht is nichts getan,
Wir sind gar bald verloren;
Es steit't für uns der rechte Mann,
Den Gott hat selbst erkoren.
Fragst du, wer der ist?
Er heisst Jesu Christ,
Der Herr Zebaoth,
Und ist kein andrer Gott,
Das Feld muss er behalten.


It mentions the "J" word as being no other God, when we know such a divine being can only be His O'liness!

*sigh* Opiate of the Masses, indeed. What ideological Babylon!