Red Menace

ah, spring is here and the workers have tilled the soil in the collective beetfields. now it is time for the joyus "Summer of Fisting" to begin!
the People™ are
decorating the Capitol
with their festive designs and ispirational speaches are being made. Fisting time in Wiskonsin, my favorite time of year!

General Confusion

Delighted to see the wise wisconsin work force are up in arms against the free squandering of money in the Private Sector.

No one is dumb enough to believe they earned their money!


Kelly Ivanovna/келя ивановна
Anyone know any good fisting carols?


Chairman M. S. Punchenko

Must be nice to make money shouting into a bullhorn and painting angry clinched fists. I think I could do that job if the government wasn't so generous with unemployment benefits for layabouts like myself.


Sugar Daddy Bear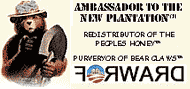 I find it so ironic that that one prole sharing the soap box was holding an Amerikan flag. What was he thinking? Is he trying to persuade others of his brilliant wit and sense of humor? An Amerikan flag?! Maybe the camera turned off before they lit that thing on fire. We can only hope that was the reason!


R.O.C.K. in the USSA

Princess Nookie
Anyone know any good fisting carols?
Ah, I love this season! The Black Panthers are in bloom, Acorns are changing their names, missile
toe
s are being launched without congressional approval - in short, it's the Most Beautiful Time of the Year!
Joy to the world - Dear Leader reigns!
Let men - sho-vels - employ!
While wealth gets spread
The Truth be said:
"He's just so very smart -
"So very, very smart -
"Dear Leader - with wo-o-o-nder, hope, and change!"

Red Menace

"Everybody's gone fisting...
fisting USSA!"


Fraulein Frankenfeinstein

oh my, I misread what you probably thought you wrote, "spoiled their tillings" is what landed in my fertile thinking. . . . but none the less, there is not enough soiling going on. Comrade Buffoon has always been one to soil . . . . but I digress.

This is glorious news, 'fishing for fisting' is what dear, beloved, deceases Mr. P always used to say. (no one knew what he was talking about but he had such enjoyment........)


Gulag 4 Alfred

Comrades - Here's a great toon to
fist
to: