Red Square

This is not a joke.
Alyssa Newcomb of ABC
has discovered traces of government waste. Who could have thought bureaucracy was so irresponsible? We need a special government commission to investigate all government commissions, and to appoint a special government commission to supervise the aforementioned government commission.
This can solve all our government problems! How come no one in the government thought about that before?
Quote:
The Pentagon was inundated with so many studies in 2010 that it commissioned a study to determine how much it cost to produce all those studies.

Now the Government Accountability Office has reviewed the Pentagon's study and concluded in a report this week that it's a flop.

The study of a study of studies began in 2010 when Defense Secretary Robert Gates complained that his department was "awash in taskings for reports and studies." He wanted to know how much they cost.

Two years later, the Pentagon review is still continuing, which prompted Congress to ask the GAO to look over the Pentagon's shoulder. What they found lacked military precision.
The GAO found only nine studies that had been scrutinized by the Pentagon review, but the military was unable to "readily retrieve documentation" for six of the reports.

The Department of Defense's "approach is not fully consistent with relevant cost estimating best practices and cost accounting standards," the GAO concluded. In fact, they often did not include items like manpower, the report found.

The Pentagon "partially concurs" with the GAO's report.

The cost of the study of the study of the studies was not available from the GAO.

Margaret
Help! Please! Is there an adult in the house?!


New Paradigm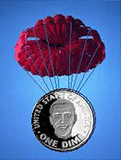 The academics can look into this for free if we can allow students a week off in May.


UnifiedInformation


ThePeoplesComrade

A study about studies of studies could only be topped by, well you know, a study about a study of studies about studies. But this will only happen if we elect Obama for a second term and have a president who encourages intellectualism for the sake of intellectualism with a total disregard for practicality (or as they call it around here, "pork for votes"). It keeps us in power, keeps you thinking we are doing something and keeps our "intellectuals" feeling important and off the streets. Everyone is happy.
-Commissar of Stating the Obvious-

UnifiedInformation

Sir Commissar of the Bleeding Obvious, we could not agree more. The Department of Redundancy Department should be happy to hear of your glorious remarks as they get to work immediately on the Study for a Study for Studies About Studies. Салют!


Vrag Naroda

Kind of like this one...
Then there are these gems...did we really need a Cornell scientist to tell us that?