Krasnodar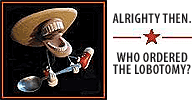 The Revolution has always had inspirational leadership. Our President follows in the footsteps of greatness.

darski

Now this is a Marx we all could love.
Mystery item No. 1
and it seems the people's characters are still always working LoL

Krasnodar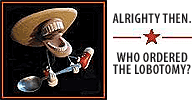 Darski......have you ever seen " Duck Soup " ( 1932 ) ?
Still some of the best lines in comedy...... and then there's the mirror scene.........
The picture is none other than Rufus T. Firefly, appointed leader of Freedonia.
Why, with a man such as this in command, I'd follow him to the gates of.... ....my garden.

KOOK

But the burning questions is: "What's today's secret word?"

Shouldn't Groucho Marxist make an appearance whenever somone says whatever is the "secret word" of the day? . Given the need of the People to be suitably guided by the Cube, perhaps it's encumbent on Groucho Marxist to at least set a "secret word" of the week for each week. (To set one every day may be too great a burden on Groucho Marxist because his image suggests he's getting along in his years and may not be as vigorous as he used to be.) . Maybe a "secret word" for each succeeding "Next Tuesday"? Where is that Groucho Marxist? Probably cleaning Duck Soup from his beard. . I wish I knew what is the "secret word right now. . --KOOK


General Confusion

The first photo shows the real Marxism originating from the United States.


Comrade Whoopie

Say the secret word and down comes the duck!
Comrades, I've been pondering what our legacy will be in the far flung future. A thousand years from the dawn of the progressive world of Next Tuesday will
we
be remembered at all?

Fraulein Frankenfeinstein

Dear Leader is doing his party. What more could we ask?

KOOK

Fraulein Pulloskies
Dear Leader is doing his party. What more could we ask?


Expert ObamaCare from Doctor Obama.
--KOOK